Josh Hutcherson to Star in 'Paradise Lost' (But Not That 'Paradise Lost')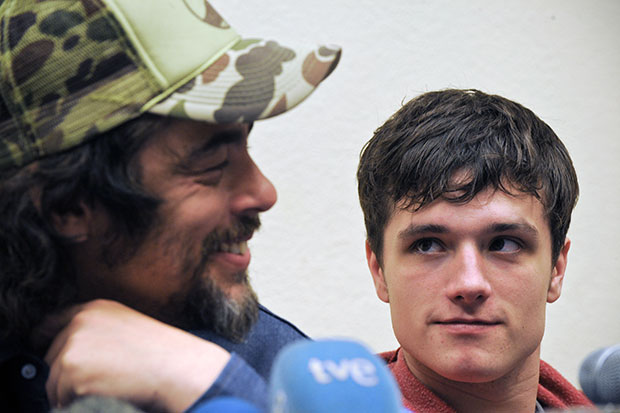 A note to those who were enthralled by the prospects of Bradley Cooper's once-developing Paradise Lost film adaptation: don't get too excited over this new announcement. Yes, Josh Hutcherson is in talks to star in a movie titled Paradise Lost, but it is not at all related to John Milton's classic epic poem. In fact, Deadline reports that Hutcherson is looking to take on a leading role in a biopic about drug kingpin Pablo Escobar… which still sounds pretty interesting, especially considering the fact that Benicio del Toro has been named as the potential star to take on the role of Escobar. Hollywood.com has reached out to Hutcherson's reps to confirm his involvement, but they were not immediately available for comment.
Interestingly, instead of centering the attention on the infamous criminal himself, the story looks to follow Hutcherson's potential surfer character Nick, who takes up a romance with a young woman who turns out to be Escobar's daughter. This seems to suggest a stray from your usual biopic formula; instead, what we might see will more closely resemble the structure of narrative romantic drama. The sort of relationship shared between Escobar and Nick is as of yet unknown, but more often than not, when you date a known drug lord and murderer's daughter, you're in for something a bit more volatile than Meet the Parents. Although, this could very well work its way into a pretty good comedy premise…
The film will be the directorial debut of actor Andrea Di Stefano, who is also handling the script.
[Photo Credit: ADALBERTO ROQUE/AFP/Getty Images]
More:
New 'Hunger Games: Catching Fire' Set Pics: Are They What You Imagined?
'The Hunger Games: Catching Fire' First Look: The Quarter Quell Begins! — PICS
Eddie Redmayne Joining Channing Tatum and Mila Kunis in 'Jupiter Ascending'?

'Jack Reacher': The Beginner's Guide To The New Tom Cruise Movie

'Les Miserables' Unscripted: Hugh Jackman, Anne Hathaway On Singing And Being Modest