If You Think About It, 'Chronicle' Is Pretty Much a 'Star Wars' Movie Already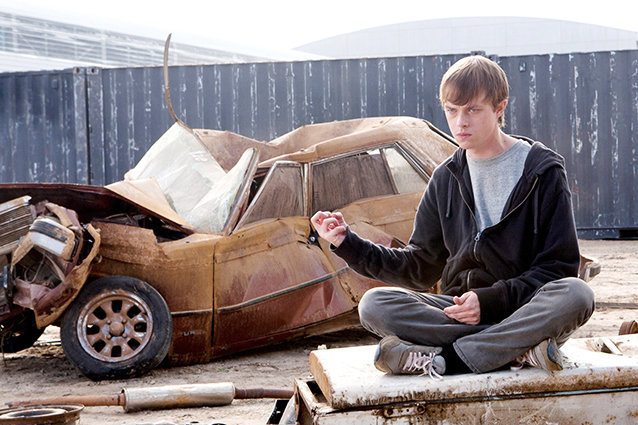 20th Century Fox Film via Everett Collection
Chronicle hit unexpectedly at the dawn of 2012 (and the dawn of the superhero "movement"), impressing critics and fans as Josh Trank's feature debut. The found footage picture served both as an impressive science-fiction flick and a dutiful character piece, telling the story of three teenage boys who transform mentally and emotionally after becoming suddenly imbued with superpowers. Chronicle led Trank to land one big name picture, the developing Fantastic Four reboot, and now has earned him another: one of Disney's long list of standalone Star Wars films (Godzilla director Gareth Edwards is also handling one of these features). And if you've seen Chronicle, you know that the 29-year-old Trank is perfectly tailored for the George Lucas universe. In truth, Chronicle is pretty much a Star Wars film already…
[Warning: Major Chronicle spoilers to follow… Star Wars spoilers, too, but I feel less inclined to warn people about that]
Hero Becomes Villain
Admittedly, this is a pretty common trope throughout the vast cosmos of fiction… and human history. But Dane DeHaan's tortured introvert Andrew embarks upon a path markedly similar to that of one Anakin Skywalker. Neither one is able to contain his thirst for power once he discovers new, supernatural abilities.
The Force
And those abilities? They are nearly identical. George Lucas' Force and the result of contact with whatever it is the Chronicle boys happened upon in that pit are both defined primarily by large-scale telekinesis and a mastery of aerodynamics.

Flying… Through Storms!
Granted, one is a meteor storm and the other is simply lightning. But the danger is the same.
Hero Is Defeated by Beloved Relative
Andrew's cousin Matt (Alex Russell) is called upon to save his town from the former's wrath; it is son Luke who managed, in the end, to defeat Darth Vader, although Emperor Palpatine's d-bag electroshock powers sure didn't help matters. Neither Matt nor Luke was particularly overjoyed at having to kill someone he once loved, but c'est la vie.
Daddy Issues
And how. Luke is overcome by his angst in finding out that he's got the mother of all bad fathers, and Andrew deals with an abusive dad as one of his many grievances throughout the film.
Yub Nub
A course-changing scene in Chronicle sees Andrew and Matt having too much fun at a high school party, one not unlike the traditional Ewok celebration at the end of Return of the Jedi.