Julian Assange Tells Benedict Cumberbatch How Terrible 'The Fifth Estate' Is, But in Such a Classy Way!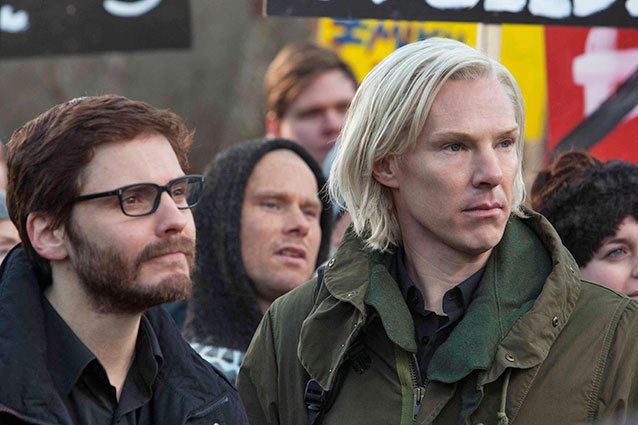 DreamWorks
It takes a special kind of charm to tell somebody that the project he's been working on is a piece of garbage and still come off like a perfect gentleman. Back in January, Julian Assange, founder of WikiLeaks, received contact from one Benedict Cumberbatch — the actor tapped to portray the controversial figure in The Fifth Estate. Fellow class act Cumberbatch was hoping to get in touch with Assange to better prepare for and develop the role. But the Australian activist refused to meet with the actor, castigating the developing picture as a work of lies and a deliberate assault on his character and life's work. But, and we say this sincerely: Assange was really, really smooth about it.
Nearly 10 months later, Assange posts his response to Cumberbatch's request on WikiLeaks, remaining respectful of the performer (he even says he's a fan of his work… of course, this note was written before Star Trek Into Darkness came out) but directing no dearth of enmity toward The Fifth Estate. Assange even pleads with Cumberbatch, in the letter, to emancipate himself from the project (a suggestion the actor clearly did not heed). The first few paragraphs of the essay are printed below, with the full document available to read back on WikiLeaks. Check it out, it makes for quite the interesting read. We're all going to start using the idiom "jobbing actor" far more often.
Dear Benedict,
Thank you for trying to contact me. It is the first approach by anyone from the Dreamworks production to me or WikiLeaks.
My assistants communicated your request to me, and I have given it a lot of thought and examined your previous work, which I am fond of.
I think I would enjoy meeting you.
The bond that develops between an actor and a living subject is significant.
If the film reaches distribution we will forever be correlated in the public imagination. Our paths will be forever entwined. Each of us will be granted standing to comment on the other for many years to come and others will compare our characters and trajectories.
But I must speak directly.
I hope that you will take such directness as a mark of respect, and not as an unkindness.
I believe you are a good person, but I do not believe that this film is a good film.
I do not believe it is going to be positive for me or the people I care about.
I believe that it is going to be overwhelmingly negative for me and the people I care about.
It is based on a deceitful book by someone who has a vendetta against me and my organisation.
In other circumstances this vendetta may have gone away, but our conflict with the United States government and the establishment press has created a patronage and commissioning market – powerful, if unpopular – for works and comments that are harmful to us.
Read the rest back at WikiLeaks. The Fifth Estate hits American theaters on Oct. 18.