Julian Assange Obtains Leaked WikiLeaks Movie Script, Because Of Course He Does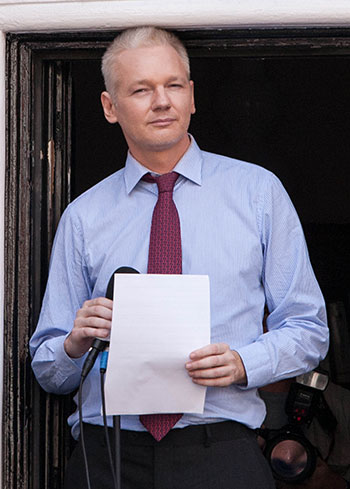 Internet activist and WikiLeaks founder Julian Assange revealed that he has received a leaked script from the upcoming WikiLeaks movie, The Fifth Estate, because of course he has. Would you expect anything less of the man who became famous for distributing confidential documents on the Internet in the name of public information?
According to the Associated Press, Assange told a crowd during a speech at the Oxford Union in England that he's read the script and is not very happy with it.
"It is a mass propaganda attach against WikiLeaks, the organization and the character of my staff," he said. In an interview with the AP, he revealed that the plot of the movie revolves a fictional mole in the Iranian nuclear program who must flee to Iraq when his name is included in a document posted on Assange's site.
"They tried to frame Iran as having an active nuclear weapons program. Then they try to frame WikiLeaks as the reason why that's not known to the public now," Assange said.
The Fifth Estate follows the life of Assange and the creation of his website, which was founded as a way for the public to have free access to classified government information. The first photos from the set show star Benedict Cumberbatch decked out in some Draco Malfoy-looking hair as Assange, with Daniel Brühl as WikiLeaks spokesman Daniel Domscheit-Berg, who later cut ties with the company.
Laura Linney and Anthony Mackie also star in the Bill Condon-directed film, which will hit theaters on Nov. 15, 2013.
Follow Jean on Twitter @hijean
[PHOTO CREDIT: Wenn]
More:
Benedict Cumberbatch Becomes Julian Assange (Not Draco Malfoy)
Julian Assange Says WikiLeaks Movie is Full of Lies
Second John McAfee Biopic in the Works?1 4 Other Films That Doubled Up

J. J. Abrams and 'Star Wars': Has the Lightsaber Been Passed to the Right Director?