'Safe Haven' Star Julianne Hough On Her Sexy Kiss With Josh Duhamel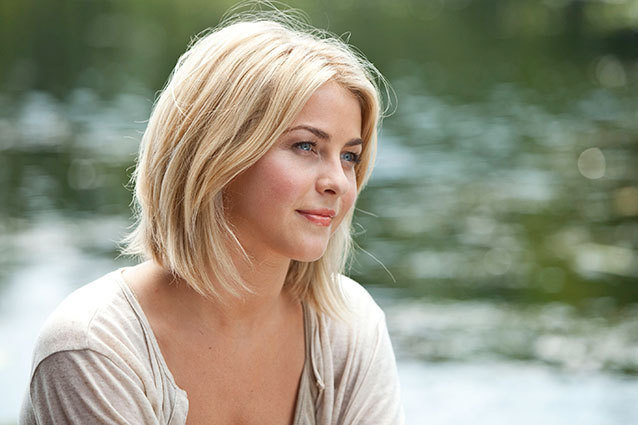 Like many girls of a certain age, Julianne Hough grew up reading Nicholas Sparks' romantic books, then heading to the movie theater to see the latest film adaptation. Now, she gets to star in her very own Sparksian romance, Safe Haven.
Interestingly, the 24-year-old Hough says her favorite Sparks book/movie combo is the 2002 Mandy Moore/Shane West drama A Walk to Remember rather than the universally lauded Ryan Gosling/Rachel McAdams classic The Notebook. "[It's] probably because of the memories I have growing up with it. I mean, who doesn't love The Notebook? But I'm probably going to have to go with A Walk to Remember," Hough tells Hollywood.com.
Safe Haven, about a woman (Hough) who flees her abusive husband and winds up in a small coastal North Carolina town where she falls in love with a widower/single dad (Josh Duhamel), is a little more thriller than romance. Hough says that although it follows in the grand romantic tradition of previous Sparks movies, she didn't feel too nervous about joining the fold. "There's pressure because people put it on you, but we really saw this as a great story with great characters," she says.
Like all Nicholas Sparks movies, Safe Haven has one epic kiss that will outshine the movie's other romantic moments. "We figured that out on set that night," Hough says of the sexy makeout behind a tree. "I don't think that was in the script. I remember we were like, 'That could be a good way to make it a sexy thing.' …Then we were like, 'Let's not think about it, let's just do it.'"
Safe Haven hits theaters on the very romantic Thursday, Feb. 14. Check out Hough's full Hollywood.com interview below:
Follow Jean on Twitter @hijean
[PHOTO CREDIT: Relativity Media]
---
From Our Partners: 

'Groundhog Day' Cast: Where Are They Now?

Bradley Cooper Dancing Is Surprisingly Awkward