'Jumanji' Remake Gets A Writer — Let's Hope He Brings Back the Scary Spider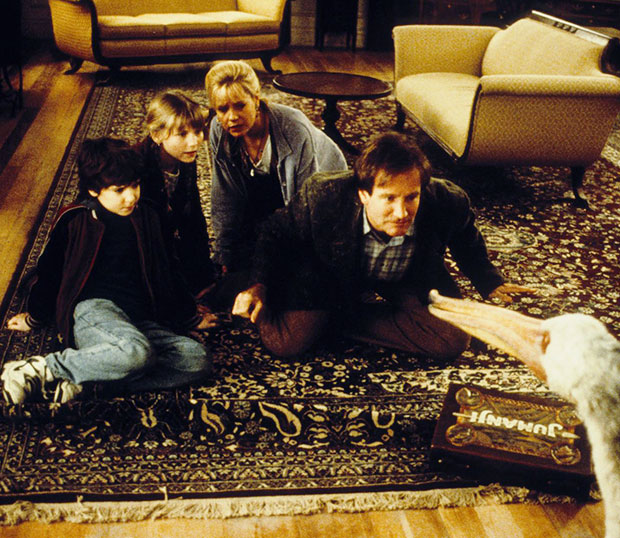 Ready or not, nostalgic kids of the '90s, here it comes: a Jumanji remake, for some reason. Despite being completely perfect in its original form, Hollywood is rebooting the 1995 film, which originally starred Robin Williams, baby Kirsten Dunst, and some very mischievous computer-generated monkeys. According to The Hollywood Reporter, screenwriter Zach Helm will roll the dice and take his chances adapting Chris Van Allsburg's beloved story for the big screen reboot, which is being produced by Ted Field and Mike Weber for Columbia Pictures. (There are no stars or director attached to the project yet.) Hollywood.com has reached out to Helm's reps. 
The book Jumanji, about two children named Judy and Peter Shepard who unleash a jungle (quite literally) when they play the titular magical board game, differed in many ways from the movie, including making Judy and Peter orphaned and adding a backstory about a man named Alan (played by Williams) who has been trapped in the world of the game for years. It will be interesting to note the direction in which Helm — who penned both the imaginative, serious Will Ferrell vehicle Stranger Than Fiction (which earned him a Critics Choice Award nomination) and the kid-friendly Mr. Magorium's Wonder Emporium (another adaptation of a childhood favorite book, though this one was noticeably less loved by critics) — will go. 
Will he stick closer to the book or the movie? For the Jumanji remake to work, it's got to have the right amount of appeal to a new generation without dumbing the story down or betraying fans of the original film. In which case, it might be wiser for Helm to stick more faithfully to the book so that it doesn't rely too heavily on being a complete reboot of the movie. And hey, a David Alan Grier cameo wouldn't hurt, okay? 
[Photo credit: Tristar Pictures] 
More: