'Jurassic Park 3D': Do Eye-Popping Re-Releases Work?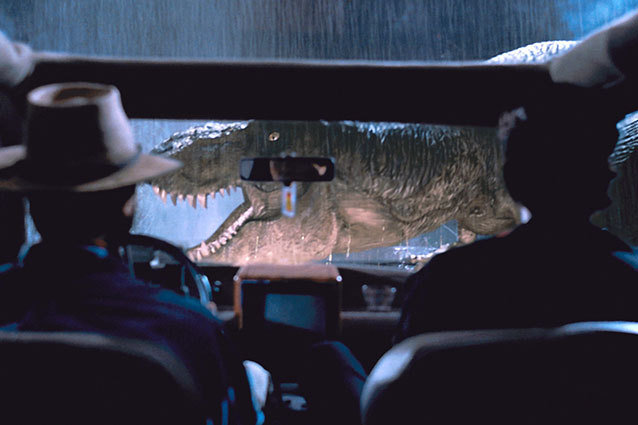 First it was sequels. Then it was remakes. Then it was reboots. Now, as Hollywood responds to the ever-changing needs of audiences hungry for both mind-blowing cinematic experiences and nostalgic throwbacks, studios are taking cues from the practices of repertory movie theaters. Why figure out new ways to revive old movies when you can just bring them back to the big screen?
This week sees the re-release of Jurassic Park, Steven Spielberg's science-infused monster movie. Timed to the defining blockbuster's 20th anniversary, Universal has imbued the movie with the new re-release standard: pristine, eye-popping 3D. So there's still a twist — it's the movie you know and love, modernized in a way that feels familiar alongside today's mega-tentpoles.
Reviving Jurassic Park— a kid-of-the-'90s staple that has never faded from memory thanks to ad nauseum repeats on TNT — screams cash-grab and, in some ways, it is. A 2011 report from the Los Angeles Times pegged the post-conversion cost for a non-3D movie at around the $10 million mark. Plus promotional costs, re-releasing a well-known title back into theaters with fanfare to contend with new releases costs a fraction of what goes into making a modern movie a hit.
REALTED: The 20 Most '90s Moments in 'Jurassic Park'
In Sept. 2011, Lion King 3D surprised the industry when it opened to over $30 million at the box office, working its way up to a $94 million over the course of its theatrical run. After the success of Lion King, delivering their classic animated films for kids with eyes for 3D became an imperative for Disney. They followed it with Beauty and the Beast 3D ($57.9 million), Finding Nemo 3D ($41.1 million), and Monsters, Inc. 3D ($33.8 million).
3D works so well for animation because traditionally 2D cartoons are created with layers. When Simba clings to a cliffside above a stampede of wildebeests or Belle and Beast dance in the castle ballroom, the drawings are physically laid on top of the backgrounds and can be separated for 3D using computers. Live-action is a bit tougher, and so audiences' perception for the post-conversion process was an inherently harder sell. The images look different — but clearly, not so much so that audiences backed away from the films.
George Lucas took his first stab at 3D-ifying Star Wars with the 2012 re-release of The Phantom Menace, bringing in a decent total of just under $43.5 million. Doing even bigger business was 3D veteran James Cameron with his re-release of Titanic. The record-holder for highest grossing movie of all time added another $57.9 million by the end of its 3D release.
RELATED: 'Jurassic Park' Inspiration Jack Horner Is Actually Reviving Dinosaurs
Will Jurassic Park see the same success? The movie is tracking for an opening around The Phantom Menace, but should have even better luck at the box office thanks to the pure love of the audience. As one fan of the film told me, Jurassic Park was his life back in '93. He caught it several times in theaters; the film even spurred him to write a letter to Spielberg professing his love for the movie (and pitching him a few sequel ideas, in case the director needed any). People love Jurassic Park — especially the key demographic, 20- and 30-somethings, who flood movie theaters.
Not only is the promise of Jurassic Park back on the big screen enough to get butts in seats, but the conversion serves the story. The 3D works because the movie is equipped for it — Spielberg's camera as always pushed the limits of the frame, putting faces in the foreground and eye-catching objects behind them. Is it a better film? No, but the 3D amplifies the terror, and the effects compliment what's already been shot. Take the legendary T-Rex attack: Timmy in the back of a jeep, playing with nightvision goggles behind a rain-covered window; Grant and Dr. Malcolm watching from the front seat as the animal emerges from its broken pen; the T-Rex snapping at Tim and Lex as they hold it away with a pain of glass. Spielberg composes the entire attack with layers, like the animation of Lion King and Beauty and the Beast. Adding a dimension was easy.
RELATED: 'Jurassic Park 4' Finds a Director
It's hard to call Jurassic Park 3D a "cash grab" even though it's easy money in the studios pockets because Jurassic Park is just that good. Unlike most of the movies we'll see this summer, every moment in the film feels thoughtful, each character woven into the larger-than-life narrative with a personality (for example: of courseNedry wipes shaving cream on to a slice of pie when first receiving his fake Barbasol canister!). The movie is a spectacle — and a terrifying one at that — but it's also about ambition, about people struggling with personal issues (c'mon Dr. Grant, kids aren't that annoying), and grand concepts of science we're still wrestling with today.
Spielberg may not have planned for his Michael Crichton adaptation to be resurfaced in movie theaters 20 years after he unleashed to audiences, with an added 3D effect then normally utilized for the shoddiest of B-movies, but that's the thing with the entertainment industry. Re-releases find a way.
Follow Matt Patches on Twitter @misterpatches
[Photo Credit: Universal Pictures]
---
From Our Partners:


40 Most Revealing See-Through Red Carpet Looks (Vh1)


33 Child Stars: Where Are They Now? (Celebuzz)