'Jurassic World': Jurassic Park Sequel Gets Global New Title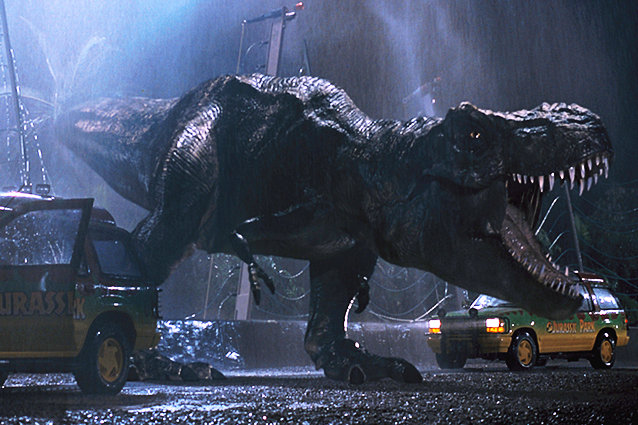 Universal Pictures
Nature always finds a way, or maybe movie studios do. Jurassic Park 4, a movie that has probably been in development since the crustaceous period, is finally showing signs of progress. Universal studios has announced that the long-awaited sequel in the Jurassic Park series will be titled Jurassic World, and will be released in 3D on June 12, 2015, a summer already jam-packed with seemingly every other blockbuster film series. Colin Trevorrow, director of the Indie sci-fi dramedy Safety not Guaranteed, is set to direct his own script. Steven Speilberg is producing the film. The new title, Jurassic World,  suggests that the prehistoric terror will not be confined to one park or island, but will be more of a global threat. Will velociraptors be threatening a celluloid London, New York, and Seattle?
There hasn't been a Jurassic Park film in over ten years, so fans are surely hungry for more dinosaur action, but what will the dinosaurs in the new film look like?  Over the past decade, the rumor mill has been spinning with all manner of crazy ideas including humanoid dinosaurs with pants and mercernary dinosaurs with guns. Hopefully the studios have settled on a design that's a little less insane and a little more classic Spielberg.
It is worrying, however, that the summer of 2015 is already crammed with big blockbuster releases from several studios. Jurassic World will be competing with Assassin's Creed, Terminator, The Avengers: Age of Ultron, Batman/Superman, Ant-man, and the possible release of  Star Wars: Episode 7. Will Jurassic Park stand out from the crowd, or does it stand the chance of being cannibalized?
More:
Ant-Man Coming to Theaters July 2015
'Jurassic Park 4' Will Attack Theaters in 2015
14 Pieces of Crazy 'Jurassic Park' Merchandise
---
From Our Partners:


A Complete History Of Twerking (1993-2013) (Vh1)


15 Stars Share Secrets of their Sex Lives (Celebuzz)