Justin Timberlake and Larry David Up for the Same 'Stooges' Role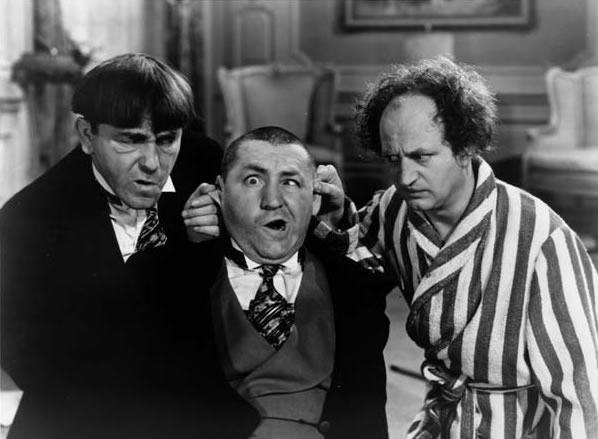 It looks like this Three Stooges pic is moving forward; it's just moving in a million different directions. The list of potentials is all over the place; and that's no exaggeration. Just in the category of leading men in line for the iconic role of Larry are Justin Timberlake, Woody Harrelson and Larry David. While they could both bring their own entertaining flair to the project, the styles are so disparate that I don't know how David and Timberlake could be considered for the same role. That is unless the men behind the flick, The Farelly Brothers aren't sure of their direction yet; and that seems to be the exact case here.
The film was originally set up at MGM with Jim Carrey, Benicio Del Toro and Sean Penn as the famous trio, but those actors have since left the project and the film is now under Fox's tent so naturally, they're looking for new faces to fill the roles. Del Toro is still a possibility, but he's by no means a lock (how great would he be though?). In addition to the David, Timberlake, Harelson trifecta, we've also got Johnny Knoxville and Hank Azaria on the short list for Moe and Will Sasso ($#*! My Dad Says) and a string of unknowns for Curly. The reason for all this directionless potential casting is that the Farellys plan to build the cast around a big name once they one tied down for the film. Now it all makes sense as to why their net would be cast so wide.
That being said, since the Stooges pic is a passion project for the brothers, you'd think they'd have a clearer idea of what they're looking for instead of waiting until the big name that will give them a real direction falls into place. For a film that's been such a labor of love to even get to this point, I had hoped they'd have more push behind it all. Thanks to all these changes, we can hope — and I mean HOPE — that the film hits the screen sometime in 2012.
Source: Indie Wire