Kanye West Is in Talks to Join 'The Jetsons' Live-Action Film Adaptation

New game plan, everyone. Stop wishing on birthday candles. Stop wishing when your digital clocks read 11:11. Stop relying on shooting stars, mall fountains, or whatever deities you believe in to grant your wishes. All you have to do is just post them on Twitter, and they'll come true. The stipulation, though, is that you have to be Kanye West for this to work. So be Kanye West.
As you likely heard, Kanye West let loose a Twitter last night, touching on everything from his Grammy nominations to the public schools system (you can read a more interesting take on the whole debacle here). One of the issues Kanye mentioned was the possibility of him taking the role of creative director on a developing The Jetsons movie. Cut to…
Kanye West has been confirmed by Denise Di Novi, the project's producer, to be in talks to join the live-action The Jetsons adaptation that has been in the works for quite some time.
Apparently, Kanye has "always been a Jetsons fan, I think because he's so into design and he loves the design aspects," as Di Novi stated to MTV. "He reached out and said he's a huge Jetsons fan. There are a lot of Jetsons fanatics out there, especially people that are into either futuristic science or design. He was interested in creatively brainstorming what we were doing with the movie and what ideas he might have. It was a really friendly, preliminary conversation."
So here's the question. What exactly would Kanye West's take on The Jetsons amount to? My first thought…something like this: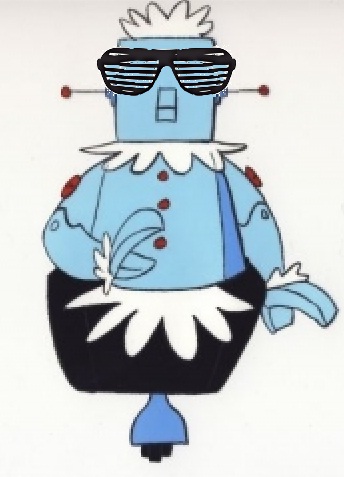 Source: MTV