Keira Knightley and Lily Collins in the Race for 'Romeo and Juliet' Adaptation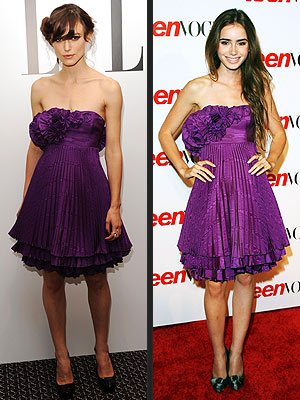 Romeo and Juliet: the most timeless love story in literary history. The story kicks off when the hormonal Montague boy spots the demure Capulet girl at a masquerade party. From the moment he catches glimpse of her, his heart is stolen, and he forgets all about the last gal he was with. What was her name again? The one we never actually met? Rosaline. Did anyone ever wonder what happened to her? Yes. One person, to be exact: Rebecca Serles. She actually wrote a book about it. And now that book, entitled When You Were Mine, will be adapted into a film: Rosaline, starring either Keira Knightley or Lily Collins.
The film will take a look at the Romeo and Juliet story from the perspective of the Romeo's unseen ex, and, to further accentuate the "re-imagination" of it all, will be enacted entirely in contemporary dialogue (none of that "eth" nonsense). Responsible for the script are Scott Neustadter and Michael H. Weber (the (500) Days of Summer team), and Michael Sucsy (Grey Gardens) will direct.
This is the sort of premise that warrants a film—the sort only comes around once every seven or eight years. To those out there some might find the contusion of Shakespeare unholy (we can sense you sneering), you would be wise recall a previous experiment of the same nature: the creation of an alternate story from the point of view of a minor character (or, in this case, two) from one of the bard's most acclaimed works. It went a little something like this: in other words, awesome.
Source: Indiewire