Kerry Washington Dishes on Her 'Peeples' and 'Scandal' Costars' Kissing Skills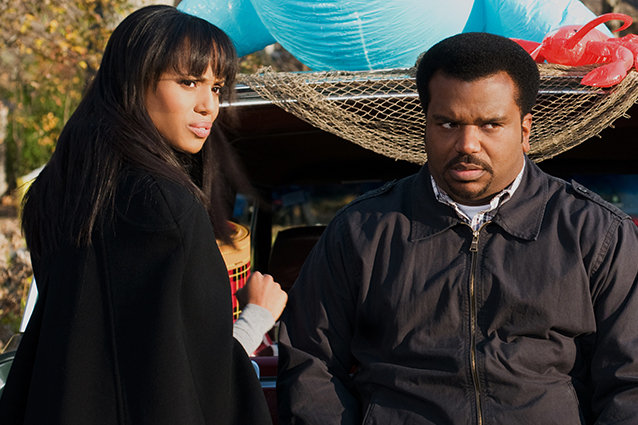 If there is one movie you wish you could have been a fly on the wall on, it's Tyler Perry Presents peeples, which premieres on May 10. In his first starring role, The Office's Craig Robinson plays the boyfriend of Kerry Washington (Scandal) in a Meet the Parents-esque comedy about a regular guy trying to live up to his girlfriend's father's unreasonable expectations.
Wade (Robinson) is a children's entertainer in New York who lives with his girlfriend Grace (Washington), a type-A United Nations attorney. Wade is getting ready to pop the question, but first he has to meet and impress her perfect family in the Hamptons — "the chocolate Kennedys," as they're referred to — and hilarity ensues.
While the movie itself if full of laugh out loud moments, it became clear when sitting down with the cast of Peeples that they'd been having just as much fun, if not more so, behind the scenes. "We instantly gelled, and there was a lot of laughing and singing — we only stopped laughing to sing," says Robinson, who frequently led the cast through Wade's hit "Say It, Don't Spray It," which teaches kids not to wet their beds.
For Washington, who just spent awards season plugging the intense Django Unchained, only to go right back into her walk-and-talk role as Olivia Pope on Scandal, doing a lighter piece was a welcome change. "It's so exciting to have a project out there that's just going to make people laugh, at a time when I feel that people need to laugh," she told us. "You just walk away feeling good about life and love!"
In our interview, find out who was the inspiration for Robinson's character, Washington's take on her costar's kissing skills (Robinson vs. Tony Goldwyn, Scandal's POTUS), and which actor was the loudest on set. We dare you not to fall in love with all of them.
More:
Only Three Women Are Directing Blockbusters in 2013?
Watch the Trailer for 'Peeples'
How 'The Office' Needs to End
---
From Our Partners:


What Happened to 33 Child Stars (Celebuzz)


40 Most Revealing See-Through Red Carpet Looks (Vh1)