Kevin Costner to Assemble Tom Clancy Characters 'Avengers'-Style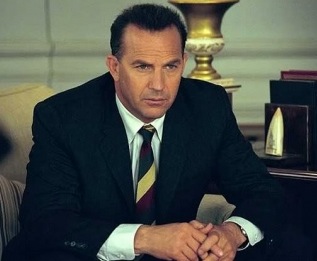 Hey, if Marvel superheroes can create a cross-polinated movie universe, why can't Tom Clancy and his band of American spies do the same?
That seems to be the plan, with the recent casting of Kevin Costner in Paramount's upcoming Jack Ryan signaling an attempt to not only continue the Clancy-verse, but to expand and weave it all together. Rumors of Costner's involvement in the film, which stars Chris Pine as the titular CIA agent and Keira Knightley as his leading lady, have been swirling about for weeks, but according to Deadline, the deals are now set — and the plan isn't just for Jack Ryan.
Paramount is eyeing Costner as the connective tissue that could potentially bring together further Tom Clancy adaptations Avengers-style. In Jack Ryan, the actor will play William Harper, mentor to the young American hero. The hope is for Costner to also feature into another big screen version Clancy movie: Without Remorse, under the eye of Jack Reacher writer/director Christopher McQuarrie (also the man behind The Usual Suspects). Knowing that a blockbuster thriller needs a strong leading man (especially considering Costner's involvement), Paramount and McQuarrie are courting The Dark Knight Rises actor Tom Hardy for the lead role.
And the Costner-love doesn't stop there. There's even talk that the actor's William Harper could spin-off into his own film — an opportunity Nick Fury has not even been afforded. With a wealth of source material at their fingertips, Paramount is going to great lengths to strategically play their cards in the right sequence in hopes of luring audiences back time and time again for continuity-filled, high-ocatne adventures. To make it easier to swallow, they found a man with the right amount of gravitas. After the mega-success of his TV movie Hatfields & McCoys, Costner is at the top of his game. He's the perfect overseer for a brand as gigantic as Tom Clancy.
Follow Matt Patches on Twitter @misterpatches
[Photo Request: New Line Cinema]
More:
Keira Knightley Joins Chris Pine in 'Jack Ryan'
Kenneth Branagh to Play Villain in Chris Pine's Jack Ryan Movie