'Kick-Ass 2' Is Kickier and Assier Than Original —RED BAND TRAILER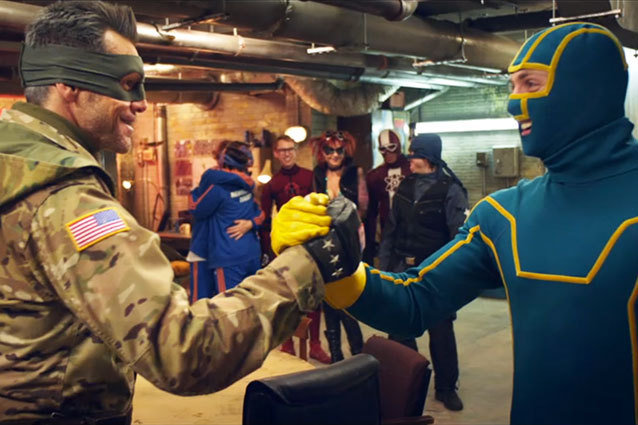 Color us disappointed that the sequel to 2010's superhero spoof Kick-Ass didn't follow the naming scheme of the Die Hard series, because Kick-Ass 2: Kick Asser would have been amazing.
As it stands, Universal's new red band trailer for Kick-Ass 2 is brutally funny and just plain brutal…as is to be expected from any trailer that features not one but two Sleigh Bells songs. As with the original, the true star here is not Aaron Taylor-Johnson's amateur avenger but Chloë Grace Moretz's purple-wigged bruiser, Hit-Girl. There's something cathartically invigorating about hearing the 15-year-old Moretz deliver lines like "Game on, c***suckers!" and "Act like a bitch, get slapped like a bitch" with a poker face.
RELATED: Lt. Commander Data's Tricorder Analysis of the Vatican's White Smoke…and the New Pope
Equally crazy is Jim Carrey as the baseball-wielding crimefighter Colonel Stars and Stripes, who's kind of like a more comical version of Watchmen's Comedian. Oh yes, and Christopher Mintz-Plasse returns to avenge his father's defeat in the first movie as a leather-daddy villain subtly named "The Motherf***er." Check it out:
Plan to see Kick-Ass 2 when it's released August 16?
Follow Christian Blauvelt on Twitter @Ctblauvelt
[Photo Credit: Universal Pictures] 
---
You Might Also Like:


Topanga's Revealing Lingerie Shoot: Hello '90s!


Stars Who Have Lost Roles For Being Too Hot (Celebuzz)