Kickstarter's 'Harbinger Down' Will Be a Monster Movie with Absolutely No CGI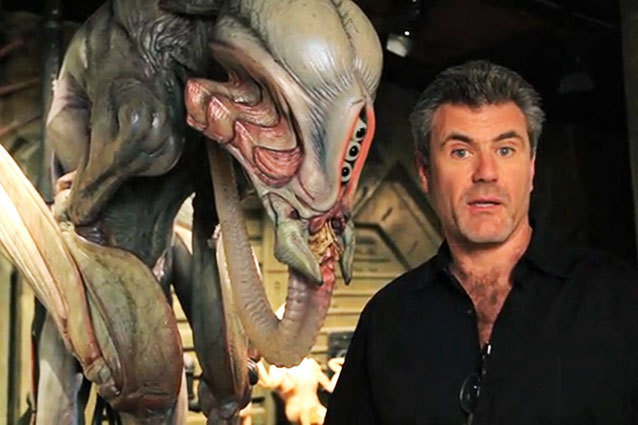 There's nothing like rolling up your sleeves and making something from scratch. Especially when the craft in question is a bloodthirsty creature from the depths of a toxic swamp or the farthest corners of an known universe.
Long before the days that James Cameron could just plug in his laptop and render a vast planet of flying jellyfish and ponytail dragons (we assume it's that easy), production teams relied on practical effects to bring movie monsters to life. Although CGI has overwhelmed the sci-fi and fantasy markets, there are still traditionalists who prefer a good, old fashioned, real life creature that you can reach out and touch… and, resultantly, get your arm bitten off by. Via the good graces of Kickstarter, special effects artist Alec Gillis hopes to revive this practice in a new project titled Harbinger Down.
Along with a pretty impressive team of Oscar-winning and -nominated VFX artists from the productions of Armageddon, Aliens, Terminator 2, and The Abyss, Gillis is pledging to create an entirely practical monster movie with the help of the ever popular crowd funding site. Check out Gillis' Harbinger Down teaser above, followed by his own love letter to practical effects, and click over to Kickstarter to keep the project alive.
Follow Michael Arbeiter on Twitter @MichaelArbeiter | Follow Hollywood.Com On Twitter @Hollywood_Com
More:
FX Master Says 'Special Effects Aren't Special Anymore'
Ray Harryhausen, Visual FX Legend, Dies
Ray Harryhausen's 5 Greatest Special FX Monsters
---
From Our Partners


Stars Pose Naked for 'Allure' (Celebuzz)


Which Game of Thrones Actor Looks Least Like His Character? (Vulture)