'Klown' Duo on Their Shocking Sex Comedy & Scenes We Can't Mention in the Headline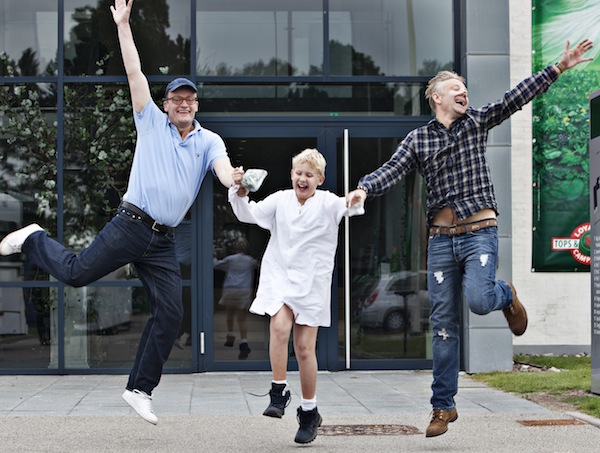 The fact that Klown, the first film from comedians Frank Hvam and Casper Christensen, is hitting American theaters this week is a bit of a miracle. Danish film is a booming industry with homegrown movies finding financial success — when it was released in Denmark in 2010, Klown came in second to Avatar as the country's highest grossing film. Sadly, only a handful of the country's films make it stateside each year. On top of that, Klown is easily one of the most disturbing, graphic cinematic experiences in years, like The Hangover's snapshot credit sequence come to life (meaning, it's also wicked funny). So how did the raunchy comedy beat the odds? Based on Hvam and Christensen's experiences, people just loved it.
"We wrote it for the Danish market and suddenly it took off in Norway and Finland and Iceland," says Christensen. "We said, 'OK, people who have not seen the television show can get something out of the movie.' Then suddenly it won something at a movie festival in Canada, then in Austin, Texas…it was a surprise for us!" Hvam and Christensen adapted Klown from their Danish television show of the same name, a Seinfeldian comedy about the little things in life that blow up in the two protagonists faces episode after episode. The duo wrote and starred in six seasons of Klown before ending the series (which has never aired in the U.S.) — a lot of ideas, a lot scripts, a lot of comedy. Christesen admits the prospect of coming up with another adventure for their fictional counterparts (also named Frank and Casper) was daunting. But like many TV-to-movie adaptations, Hvam suggests that they key to keeping it fresh was to go bigger. "The way out was to go for big emotions. We had made 60 episodes and they were about small things. It could be about a pen missing. That could be 25 minutes. And of course, you can't fill a movie with a small story like that. So to find that core story filled with emotion and that was the new thing for us. A man fighting for his merits and his unborn child. "
Klown follows Frank, a man whose shaky relationship is thrown into greater chaos after the revelation that his girlfriend is pregnant. Frank, in hopes of proving to his girlfriend isn't a reckless dolt, decides to "take" (literally, without permission) her nephew Bo on a camping trip with his best friend Casper.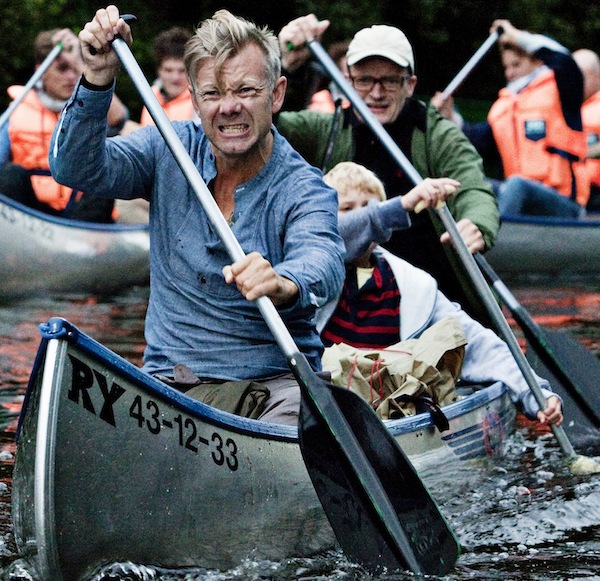 Casper and Frank's previously scheduled trip was set to involve sleeping with prostitutes, doing drugs, and drinking themselves into a stupor. Most of Klown involves both men trying to do all that while towing along a 12-year-old. Chaos and hilarity obviously ensue.
"When you remove all the sex things, it's still a heartwarming story," says Hvam. Frank and Bo's relationship is genuinely touching, it's impossible to imagine Klown without its button-pushing humor. Early in the film, Frank finds himself in a heated argument with his girlfriend over his immaturity. Not knowing what to do to win he back, Frank takes Casper's relationship advice: give her a "pearl necklace." So he does. "We all know the situation: you're in a relationship, no children, and it's getting boring," says Havm. "You need some new inputs for the relationship. Need to find something to renew the relationship. A pearl necklace isn't the right thing to do…but it's still an attempt to do something about the relationship." Christensen believes the messy sex move could actually work. "I think every girlfriend would really appreciate the physical love you show her by doing a pearl necklace. I'd recommend it."
"But not when she's sleeping," says Hvam.
"I think exactly when she's sleeping," snaps Christensen. "Because then she's pure, like Snow White, when she's sleeping. You love her so much you could not hold back."
In a truly jaw-dropping moment, Frank and Casper find themselves under the influence and all but ready to prank their youngster counterpart. The two pull a stunt that would elicit screams if the target were an adult. With a child… "We had to build a 12-year-old penis in latex," says Christensen. "It's illegal, even Denmark."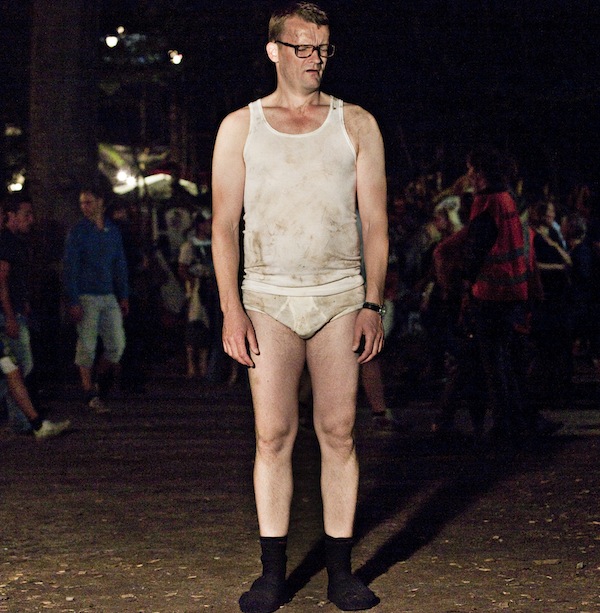 The brief nudity is one of the more twisted comedic moments in film history — finally, special effects put to good use. "Someone built it. It was very expensive. I can tell you that. Like $1,000 to make that penis." Hvam says he and Christensen have the proof. "We made some extra footage of making the latex penis, in case we ended up court."
As shocking as it sounds, audiences around the world have embraced Hvam and Christensen's blissfuly disastrous adventure. In Denmark, the film is rated so that an 11-year-old could theoretically catch it in theaters. The duo don't recommend any 11-year-olds actually see their film, but they do think it's tailored made for grown-ups of all ages. "We're kind of surprised about the age range. There are a lot of people in the 60+ who are going to see it and like it. The movie is two 40-year-old idiots doing crazy sex stuff. But of course, people who have lived their whole lives have experienced so much strangeness, so they can look at our movie and say, 'I've tried that.'" Aside from a few disgruntled Swedish women who cornered them at one of Klown's many festival screenings, Hvam and Christensen's haven't seen much pushback over Klown. Hvam believes the sex comedy is more digestible then you might expect thanks to its morality. "Our actions in the film have consequences. We are punished. And I think that makes people calm about it."
Even before its official release, interest in Klown has permeated to Hollywood's biggest comedic players; in April, Danny McBride and Hangover director Todd Phillips bought the rights to the movie for an American remake. But with the limits of the R-rating in the U.S. being what they are, an English version of Klown may never reach the absolute insanity on display in Hvam and Christensen's version. If we're lucky, there may be even more original Klown movies in the future. Christensen teases, "We're planning on writing one more in late this Fall." It may take that long just to fully believe what actually goes down in the first film.
Klown opens in limited release and debut on iTunes and VOD July 27th.
Follow Matt Patches on Twitter @misterpatches
More:
'The Campaign': Will Ferrell and Zach Galifianakis Head-to-Head Interview
'The Watch': A Few Aliens and a Whole Lot of Sex Jokes — TRAILER
Jerry Seinfeld to Guest Star on 'Louie' This Season — EXCLUSIVE
[Photo Credit: Drafthouse Films]