Knights of Columbus! 'Anchorman 2' Trailer Might Join 'The Dictator'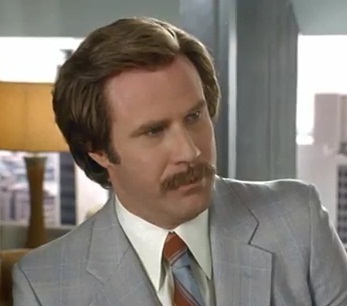 Unlike anything you might hear on San Diego's Channel 5 News, this bit of information has yet to be confirmed. However, rumors are stirring that the cinematic release of The Dictator will introduce the first trailer for the developing Anchorman 2.
Adam McKay, the director of the 2004 Will Ferrell hit that made all your friends shout about glass cases of emotion and milk being a bad choice, has Tweeted the following message: "See the Dictator (I worked on it and it's crazy funny), in addition to Campaign trailer with Zach and Will there's another treat before it."
Many are assuming that this means a teaser for Ron Burgundy's second big screen appearance. Although Anchorman 2 has not begun shooting yet, McKay, Ferrell, and any of the other parties involved (Paul Rudd, Steve Carell and David Koechner, presumably) could put together some original teaser footage. You know, just enough to get audiences yelling at the screen about Scotch and lamps and Dorothy Mantooth.
Make sure you wear a suit to the theater. Which smells of rich mahogany.
More:
Will Ferrell vs. Zach Galifianakis: Cast Your Campaign Vote — VIDEOS
Anchorman 2 Happening, with Will Ferrell
Anchorman 2: A History of Sequel Rumors and Why It Will Work