Kristen Stewart Compares Snow White to 'Twilight"s Bella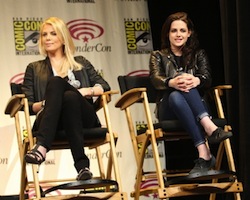 Bella Swan usually leaves the brawling to her vampire and werewolf companions in Twilight, but the upcoming film Snow White and the Huntsman promises to show us a new side of Kristen Stewart. In previews for the dark retelling of the classic fairytale, we've seen Kristen swinging a sword and riding to battle on horseback. During a WonderCon panel for the film this weekend, director Rupert Sanders debuted a five-minute sneak peek featuring even more action-packed scenes, including Snow White diving into the ocean to escape the Evil Queen's castle, fleeing on horseback, and fighting her way through the forbidden forest.
At the panel, Kristen said of shooting the film, "I hurt myself, a lot." However, she clearly felt it was worth it. "I've always wanted to do a f—ing bad-ass action movie," she said with a smile. While Stewart is clearly excited about her new role, that doesn't mean she's up for trashing the character who catapulted her to megastardom. When asked a question that implied Snow White is a stronger heroine than Bella, Kristen exclaimed, "Hey now!" and rose a little in her seat. "I could have a whole discussion about Twilight, but I won't," she said (though fans probably wouldn't have minded). She went on to acknowledge that her latest role does involve a bit more swashbuckling. "I love that character [of Bella], and Snow White couldn't be much farther from it," said Stewart. Bella may not be able to wield a weapon, but she's no wimp. It takes a lot of guts to handle the emotional turmoil involved in romancing the undead.
Source: Entertainment Weekly