Kristen Stewart's Next Romance: Alex Pettyfer Tapped for 'Cali'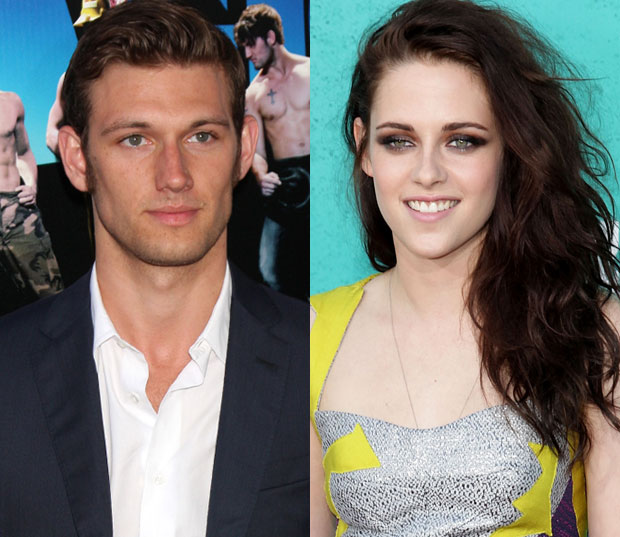 Right in the middle of all the ruckus about pout queen Kristen Stewart cheating on Robert Pattinson, her Twilight costar, boyfriend, and imaginary cuddle toy of millions of young ladies, Hollywood plopped another leading man right into her lap. It's stripper Alex Pettyfer. And he's even cuter than Kristen's last bit of man candy.
According to Variety, Alex, whose abs made more of an impact on Magic Mike than his acting did, is in final negotiations to play Stewart's love interest in Cali, a grimy action picture where they play a couple that sells a fake snuff film (a porno where someone is killed at the end, for all the non-pervs out there) and take off with a ton of money. Sounds sunny and uplifting!
At least when they're playing lovers, she'll have a reason to cuddle up next to Alex (and his abs) without alerting the tabloids. Alex, another Brit, does have a history of sleeping with costars, like his ex, Diana Agron from Some Crappy Movie About Aliens No One Saw, and his fiance and Magic Mike cohort Riley Keough. But Riley is Elvis' granddaughter so, sorry KStew, but until you are the heiress to a blue suede shoe fortune, you're probably out of luck. And director Nick Cassavetes is like 50-something so there's no way Kristen will be getting her Cali Roll on with him like she was with Snow White and the Huntsman director Rupert Sanders. That's got to be a relief for Rob. Now, if only all these directors could do something about her ever-present pout?
Follow Brian Moylan on Twitter @BrianJMoylan
More:
Kristen Stewart Cheated on Robert Pattinson with 'Snow White' Director
Kristen Stewart Apologizes to Robert Pattinson: 'I Love Him, I Love Him'