Kristen vs. Rob vs. Taylor: The Post-'Twilight' Battle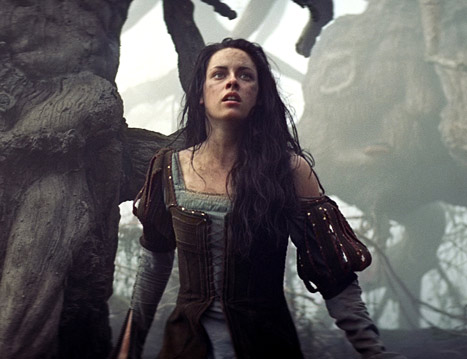 The epic love-triangle at the center of the Twilight series has turned into a battle at the Box Office. The movies three stars—Kristen Stewart, Robert Pattinson, Taylor Lautner—are all undoubtedly thinking about their careers after the vampires and wolves finally stop pawing at each other. The past year has seen each take a stab at carrying a major feature film, and with the premiere of Snow White and The Huntsman, the people have spoken. All three films—though different in genre—were rated PG-13, making them widely acceptable viewing for the vast majority of Twilight fans. So which star came out on top? Let's read on!
Third place goes to the perma-shirtless Taylor Lautner, he of the padded foot and less-than-padded pectorals. His first starring vehicle, Abduction took in $10,925,253 in its three-day-weekend gross. The film showed in 3,118 theaters, meaning each screen made about $3,500 per screen. Perhaps with a little less shirt, he could've fared better?
A bit more successful was Pattinson's Water for Elephants, which had a three-day-weekend gross of $16,842,353 on 2,817 screens. Each screen made an average of $5,978 per screen. While Lautner's action flick did not compare to the drama that saw Pattinson and Reese Witherspoon reunite on screen since 2004's Vanity Fair, neither could compare to the veritable juggernaut of success that has turned out to be Stewart's Snow White and the Huntsman.
Stewart's film—a dark and twisted take on the original fairy tale—opened this weekend with a better-than-expected $56.2 million domestically. The film, averaged $14,900 at each of the 3,773 screens it played on. Not-too-shabby, Bella Swan.
It is also worth noting that while Snow White allegedly cost $170 million, Pattinson and Lautner's films cost quite a bit less—$38 million and $35 million, respectively—but both films made money overall. It is yet to be seen what the overall gross will be for Snow White, though it feels safe to say it will exceed its costs and make a few shiny pennies for the folks over at Universal.
So it goes without saying that the clear winner is Stewart, but is that just because the film was still in the Twilight arena of being a live action fantasy? Pattinson and Lautner went in decidedly different directions with their films; Pattinson's romantic drama and Lautner's action film were lacking any sort of supernatural overarching themes. When it comes to box office success, though, it's no secret that fantasy reigns supreme in the pop culture universe these days. So did Stewart simply take an easier route towards success, or the smarter one? Perhaps it's worth waiting to see how her turn in On The Road fares after it gets a US release date, as the film (a drama based on the Jack Kerouac novel) is definitively void of any sort of magical element.
While each of the stars worked on other projects besides these three (You didn't forget Remember Me, did you? C'mon, guys, the title tells you to do just the opposite!) between Twilight films, it seems as though these three were the first attempts to test the blockbuster viability of the young stars. All signs seemed to point to Pattinson as being the breakout star of the franchise—what with all the women literally and figuratively throwing themselves at his every waking step, so some may be surprised at how this weekend's numbers separate the pack. But the Twilight films have always centered around the journey of Stewart's Bella Swan, so really there should probably be less surprise in the air.
Who do you think will have the most viable career post-Twilight? Are you surprised by these numbers, or do you think that, with the right film (maybe the forthcoming Cosmopolis for Pattinson?), a different actor is poised to take the lead away from KStew? Let us know what you think in the comments.
Follow Alicia on Twitter @alicialutes
[Image via Universal]
More:
'Snow White' Weaves Box Office Fairy Tale!
'Twilight' Stars Pattinson, Stewart and Lautner Gaze Into Your Eyes! — POSTERS
Kristen Stewart: Why You'll Rethink the 'Twilight' Star in 2012