Lady Gaga in 'Machete Kills': 3 Music Videos That Could Inspire Her New Role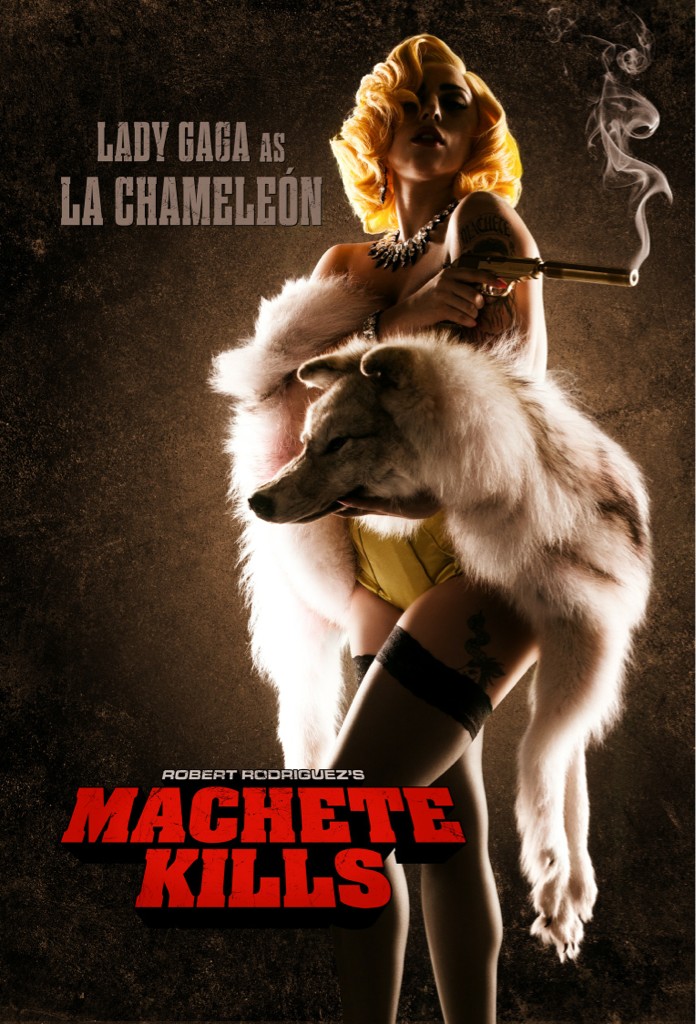 Move over Sandra Bullock, Meryl Streep, and every leading lady in Hollywood. It's time for the Mother Monster to take control. That's right, Lady Gaga just got her first role in a movie: a featured role in Machete Kills as La Chameleón. But while we have been privy to a poster of Gaga in yet another sexy ensemble (this time she's wrapped up in wolf fur instead of raw meat), we still don't have an inkling as to how her character will unfold.
Instead of sitting around until 2013 (that's when the movie is scheduled to be released) we thought we would take a swing at guessing what kind of character director Robert Rodriguez might have in mind for Gaga. Based on her past roles in three of her all-time best music videos, these are some of the many faces of Gaga that Rodriguez has to work with when coming up with her part.
Futuristic Love-Obsessed Alienette Leader
Lady Gaga didn't need to see Matrix or Mars Attacks to come up with her idea of what the future might look like. In her "Bad Romance" video, Gaga plays a love-obsessed, futuristic women (who could quite possibly be from another world) who is trying to convince some unknown man, person, or being to fall in love with her. But she doesn't just want any type of love. She wants a "Bad Romance" with a "pyscho"-like, "criminal." "Gaga, ooh la la" — for Machete Kills, Gaga could turn into that criminal that she is describing in her song.
Modern Day Superwoman
Forget Clark Kent and Superman. Lady Gaga is the modern version of Superwoman in her "Born This Way" Video. The video starts out with a description of where Gaga's character (for the video) is born. It correlates very similarly to the Fortress of Solitude built on Earth to look like Krypton. As her character wakes up and realizes her calling, it seems that Gaga morphs into Superhero status. Her flight: Speak up for those who are misinterpreted, bashed, or hated upon (hence the lyrics like "Don't be a Drag, Be a Queen" and "Subway kid, rejoice of truth"). Her superpowers: Sexy dance moves (some of which include grabbing herself) and a rocking body to motivate her message. "There's nothin' wrong with lovin' who you are." For Kills, she can use her talents to mesmerize with her body to distract the arms dealer long enough for the police to catch him.
Sexy Lady Criminal
Lady Gaga has already spent some time behind bars in her "Telephone" video. She knows how to act out a murder (drop some poison in her enemy's food). In Kills, the Arms Dealer is going to need some sexy lady friends in his entourage of evil criminals. Rodriguez already has Gaga. Now all he has to do is enlist Beyonce so that Gaga can have her own partner in crime by her side.
More:
Lady Gaga is a Wolf Mother in 'Machete Kills' PIC
Lady Gaga Remembers Marilyn Monroe's 86th Birthday