'Lawless' Star Tom Hardy: Always The Talking Point, Never the Star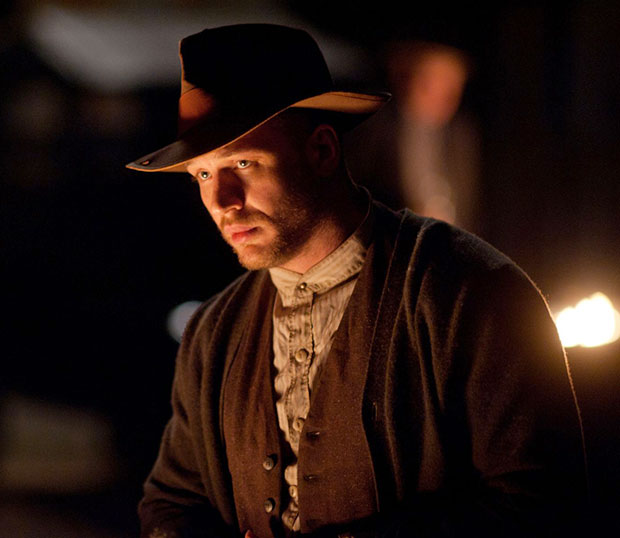 A rootin', tootin' moonshine-runnin' flick hits theaters today. There's violence, romance, action, and plenty of illegal activity in director John Hillcoat's Lawless, formerly known as The Wettest County in the World and based off the book of the same name, and the film boasts some serious star power for a late summer indie. 
Shia LaBeouf
headlines the film in one of his better performances, the ubiquitous 
Jessica Chastain
provides the lovely lady presence, and
Guy Pearce
is the ruthless tormentor. But lurking in a floppy hat on the posters and in a barely visible flash in the latest ads for the Prohibition Era film is formidable screen presence
Tom Hardy
. And despite his subdued presence in the marketing materials, when the action starts rolling in the film, Hardy is the man holding it all together. As so often seems to be the case with the criminally underutilized actor. 
Of course, Hardy's name is hardly one unfamiliar to moviegoing audiences. He was the main villain in the biggest movie of the year for godsakes. From the first whiff of his being cast as the baddie Bane in The Dark Knight Rises back in October 2010, when it was still called Batman 3, Hardy's casting was noteworthy. He rode off the buzz he got as Eames in Christopher Nolan's last film before TDKR, Inception – which ruled the box office in summer 2010 and in which Hardy has, arguably, the best line – and straight into a role in one of the most talked-about films in the last two years.  But even with his role in the record-breaking TDKR, Hardy can't seem to catch a break as a star. In this case, the culprit could be the insurmountable pressure of portraying the unlucky villain to succeed Heath Ledger's transcendent Joker in The Dark Knight and the fact that audiences had a hard time understanding his muffled dialogue overshadowed a great performance. 
Hell, by the time he was gearing up for the release of 2011's critically acclaimed 
Tinker Tailor Soldier Spy
and
Warrior
, the actor had gained enough fame to be a frequent gossip topic: Who was he dating? What's the deal with his "fluid sexuality?" Did you see his spread in
Men's Health
? Did anyone see that movie back in 2008 in which he did full frontal? (It was
Bronson
, and it should be known that the movie has got a lot more to it than that.) But he still wasn't quite The Next Big Thing. He wasn't the outright
star
of any film – even in
Warrior
, he was slated as the
Christian Bale
to
Joel Edgerton's
Mark Wahlberg
a la
The Fighter
– but Hardy was and is constantly the name on everyone's lips whenever he takes on a new project.
But why is that? He's yet to have his own leading man role. We've yet to see anything we could truly call "a Tom Hardy movie." And if that's so, why are we constantly concerned with his ability to enunciate or if some role will be the role that makes him huge? What is it about Hardy that's kept him the "always a bridesmaid, never a bride" of handsome, dashing, talented actors? (Even in the otherwise forgettable Valentine's Day rom-com, This Means War, he loses the lady to hunky bona fide leading man Chris Pine).
Well, it's not for lack of the "whole package." Freelance film writer and self-proclaimed Tom Hardy aficionado Jenni Miller tells Hollywood.com, "He's charming, he's funny, and he's honest about his screwed-up past. He is very handsome to a wide variety of people, regardless of gender or sexuality."  Not to mention actor has a wide range of ability. He can go from bashing heads in RocknRolla to staring wistfully upon the moors in Wuthering Heights. "He's got this tough guy/soft heart thing going on. I mean, hello, he was in Wuthering Heights! And that video of him rapping with a baby! It makes my brain hurt," adds Miller.
Still, Hardy, who's enjoyed a similar level of murmured praises to those which Michael Fassbender garnered after he popped up in Inglorious Basterds in 2009, has yet to break out as the clamored-for leading man the way audiences and filmmakers, alike, pine after Fassbender. "It's definitely an interesting comparison, because both he and [Fassbender] can pull off glossy men's magazine photo shoots and physically intense work environments, although I think [Fassbender's] Hunger probably trumps anything in Warrior or TDKR, for obvious reasons," says Miller.
And it's true. Like Fassbender, Hardy has clearly been accepted into the Hollywood fold — he's even working with heavyweights Leonardo DiCaprio and Tobey Maguire on an anti-poaching documentary already. Still, Hardy's performances in his breakout roles are strong, but only strong enough to get him noticed. They're not mighty enough to propel him into leading man land. We should keep in mind that it wasn't until 2011 that Fassbender blew away a wide range of audiences from varying genres with back-to-back-to-back performances in Jane Eyre, X-Men: First Class, A Dangerous Method, and his pièce de résistance Shame.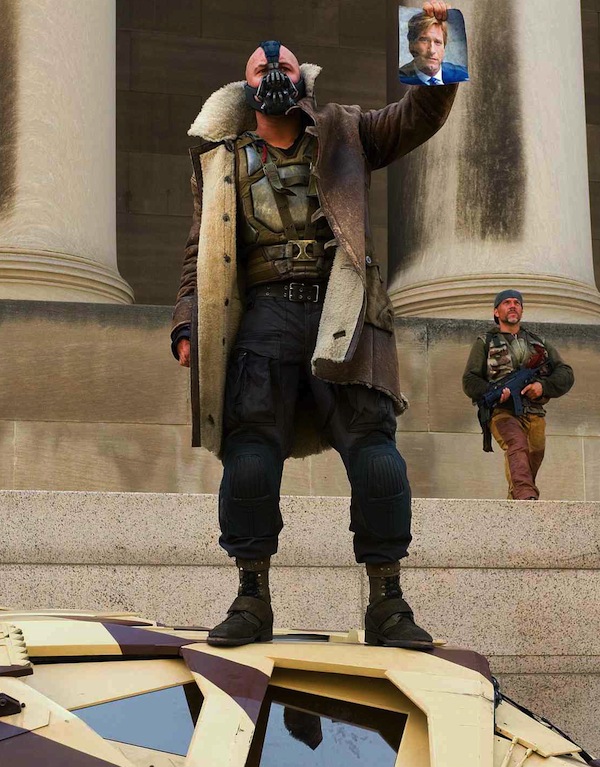 It was the perfect set-up for stealing hearts and minds, and he delivered perfectly in each instance. Hardy has yet to experience that rapid fire success and he's yet to deliver a performance to wide audiences that can match Fassbender's level. And as of now, his only upcoming project is the remake, Mad Max: Fury Road, which is in a way, his tipping point.
Hardy has built up significant, and organic, buzz with his progression from "who's that guy in Inception?" to being the breakout star of Warrior to the super villain we can't help but talk about ad nauseam in TDKR. His next few films will be the determining factors in his rise or puttering, respectable success. He'll either pull a Fassbender, or be relegated to respectable, but middling success of his Warrior co-star, Edgerton.
The latter fate, however, would be wasteful. Longtime Hardy fan, Willie Mack, tells Hollywood.com that he realizes the difficulty in Hardy's ability to seize the leading man spotlight. "Kind of like with Idris Elba, you see him and you want him to play a leading role … You're hoping that once he'll be a leading man eventually and hopefully the public will start catching on," he says.
And to some extent, he's almost there in The Dark Knight Rises and Lawless. But not quite. He delivers performances, that while not perfect by any means, are infinitely curious. And for the time being, his roles are, at the very least, keeping audiences talking. But until he actually sinks or swims, that chatter is just about the best thing a potential big star like Hardy can hope for.
Follow Kelsea on Twitter @KelseaStahler
[Photo Credit: Weinstein Company]
More:
'Lawless,' Moonshine, and America's Modern Prohibition
New 'Lawless' Trailer: The Other Bad Boys Of Summer