Lebron James to Make His Film Debut in 'Ballers'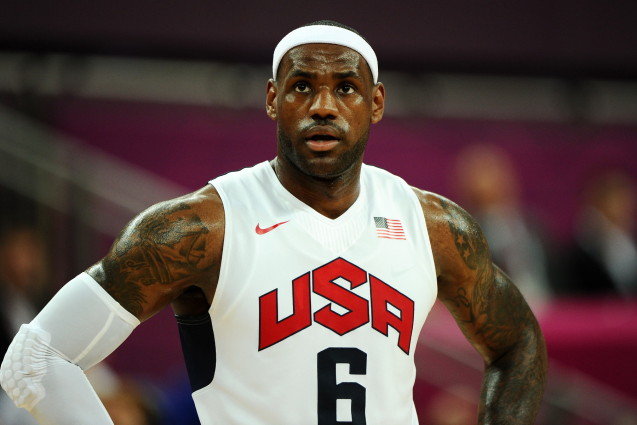 WENN
Since he began playing in the NBA ten years ago, there has been a great deal of debate as to whether LeBron James would surpass Michael Jordan as the greatest basketball player of all time. People have compared everything from their stats to their playing style to the amount of championships they've won, but now there's going to be a new category in which to compare the two: their acting skills. James is set to make his film debut in the upcoming comedy Ballers, where he will play a fictionalized version of himself opposite Kevin Hart. Hart will star as James' jealous younger brother, who finds an opportunity to step out of the champion's shadow when he attends a basketball camp in Miami. 
Ballers was originally supposed to begin production back in 2011, but after the Miami Heat lost to the Dallas Mavericks in the Championship finals, the film was put on hold to prevent backlash from Miami fans, who would be upset with their star player for spending the summer filming a movie instead of improving his game. However, now that James has led the team to two consecutive Championships, he is free to film without any criticism. After all, champions are allowed a lot more leeway than the average player — look at Shaq and Kazaam. 
Hart will be co-writing the film with his collaborators, Joey Wells, Chris Spencer, and Harry Ratchford, and the team hopes to have the movie ready to begin filming in the summer of 2014, as James is only available during the NBA off-season. In addition to the short time frame, the production team will also have to work around Hart's busy schedule — he has two films being released in early 2014, and is currently in the middle of filming a third. Hart's career has taken off recently, and he has enjoyed a great deal of success with both his movies and stand up, which makes him an ideal co-star for James, since he has experience carrying a film, and has proven himself to be a big box office draw. With both Hart and James signed on, Ballers should have no problem attracting an audience, regardless of how well James is able to deliver his lines. 
In addition to Ballers, James will serve as the executive producer of the upcoming Starz sitcom, Survivor's Remorse, about the struggles of two men, one of whom is a successful NBA star. Clearly, he will be using these opportunities to show off the wide range of characters that he is able to embody. But King James isn't the only Miami Heat star to make the jump into show business: his teammate Dwayne Wade recently sold a half-hour comedy to Fox called Three the Hard Way, which will be based on his memoir, Father First. The show will follow a fictional basketball player, Daryl Wade, and his eccentric friends who come together to help raise Daryl's two sons after he is granted full custody. 
Both James and Wade are in the middle of the NBA regular season, where they are currently in second place behind the Indiana Pacers. Hart can next bee seen opposite Ice Cube in Ride Along, which arrives in theaters on January 17, and in About Last Night with Regina Hall, which opens on Valentine's Day.