'Les Mis' Star Eddie Redmayne on Singing Professionally: 'Fear Drove This Entire Process'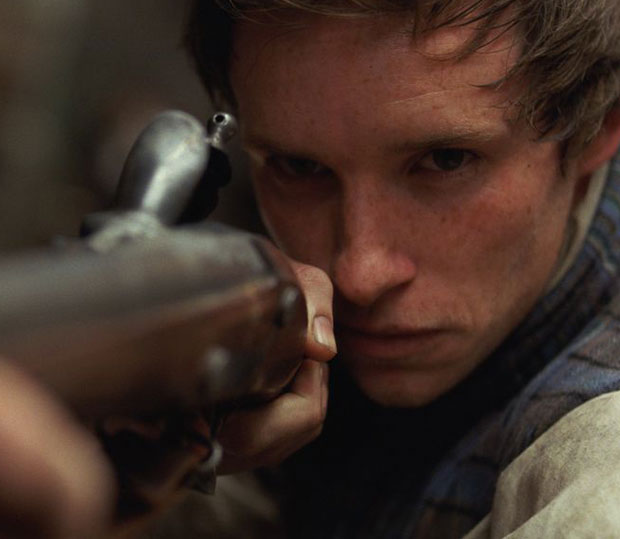 Eddie Redmayne has always been a fan of Les Miserables, ever since he was 7 years old and idolized the character of Gavroche. Since he obviously couldn't play the young boy this time around – that pesky age difference – seeing the actor who did play the kid on set made him "so jealous. I had to appease my jealousies," Redmayne says.
And when Redmayne found out there was going to be a big screen treatment of Les Mis, he sent director Tom Hooper an audition, filmed by Chloe Moretz on his iPhone, performed in his trailer while dressed as a cowboy for the filming of Hick. "It was really to show my agent that I enjoyed singing," Redmayne says. "I didn't really expect it to show up in Tom's hands."
Thanks to that spur of the moment idea, Redmayne takes on the role of Marius in this week's big screen adaptation of the legendary Les Miserables. Marius is the rebellious student who falls in love with Amanda Seyfried's Cosette, the love story at the core of the musical.
Since Redmayne has never sang on screen or professionally before, he was a bit worried to step on set and belt out the iconic Les Mis songs. "Hell yes, fear drove this entire process," Redmayne says. "I think for everyone, because we all love the show." But he admits that after "seeing Wolverine and Gladiator and Catwoman doing vocal warm ups at 5 in the morning, the fear dissipates relatively promptly."
But that doesn't mean Redmayne didn't rehearse as much as he could when he wasn't on set. "I'm a bath man and a car man," Redmayne says, explaining that he prefers to rehearse "with no one else there." The performer continues: "It's so embarrassing, I was driving in Los Angeles, and you would have thought I'd be sick of the musical by now, having spent so long with it. But I was driving in Los Angeles, and I was at a red light, by myself, windows closed, blasting out some shoddy attempt at 'One Day More.' This woman just looks across and was like, 'What are you doing?'" All he had to do was tell her, "I'm in the movie!"
To hear Redmayne dish on his love of Les Mis, taking on the role of Marius, and his unconventional rehearsal locations, check out our interview below:
[Photo Credit: Universal Pictures]
Follow Matt Patches on Twitter @misterpatches
More:
'Les Misérables' Star Hugh Jackman Admits Singing in the Alps Is Harder Than 'Wolverine' Stunts
'Les Misérables': Anne Hathaway Reveals She Was the Cosette to Her Mother's Fantine
'Les Miz': Why Today's Moviegoers Find It Hard to Accept Characters 'Breaking Into Song'

20 Hottest Bikini Bodies of 2012: Kim Kardashian and More!