'Les Mis' Stars Hugh Jackman and Russell Crowe Get in a (Musical) Bar Fight — VIDEO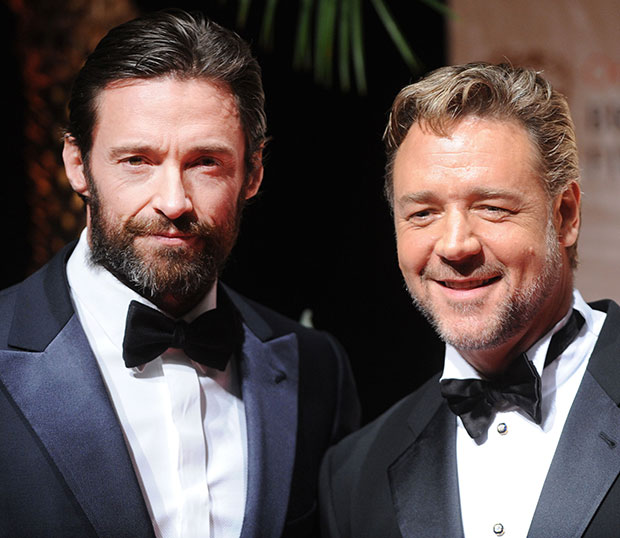 As long as you didn't grow up in a dry county, or someplace where everyone gets along with each other (like that dreadful Duluth, Minnesota), you've probably seen your share of bar fights. The strange phenomenon of the tavern tussle, the saloon skirmish, the brewhaha, come in all forms: sloppy slap-fights, horrifying duels with broken bottles, on-the-floor rumbles that take up way too much space (and time). But every one in a while, spectators of the great American (and Irish) pastime get to witness the greatest bar fight incarnation of them: the musical. Over this past weekend, such an event did take place at New York City's Joe's Pub, with some pretty unstoppable forces taking up each side of the ring: Hugh Jackman and Russell Crowe, costars of the upcoming musical film Les Misérables.
Joe's Pub hosted the touring performance of Alan Doyle and Russell Crowe's Indoor Garden Party on Saturday, featuring the Les Mis stars offering a rendition of "The Confrontation," a musical battle between Jackman's criminal hero Jean Valjean and Crowe's villainous lawman Inspector Javert. Check out the below video, depicting the pair's captivating showdown, and gear up for Tom Hooper's adaptation of the classic musical, in theaters Dec. 25.
[Photo Credit: WENN]
More:
Jackman and Seyfried in New 'Les Miserables' Clips — VIDEOS
Jackman and Seyfried in New 'Les Miserables' Clips — VIDEOS
Early Oscar Buzz Pegs 'Les Miserables', Anne Hathaway, 'Zero Dark Thirty' As Contenders

25 Things You Didn't Know About 'Aladdin' (Moviefone) 

New 'Star Trek Into Darkness' Trailer! — Cue Khan Scream (Moviefone)