'Les Misérables': Anne Hathaway Reveals She Was the Cosette to Her Mother's Fantine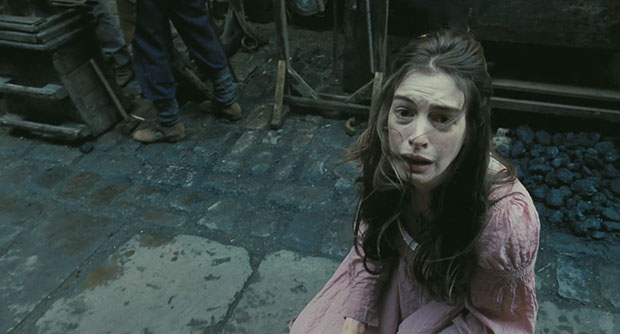 It's hard to imagine, but even after an actor or actress has climbed their way up from lead of their high school's production of Once Upon a Mattress to Oscar-nominated actress on their way to being full-fledged Academy Award winner, that person's parents are still just as proud and overwhelmed with emotion as they were in the beginning. Moms and Dads: they'll always love to gush.
Anne Hathaway is currently earning raves and Oscar buzz for her portrayal of Fantine in the film adaptation of the classic musical Les Misérables. But perhaps more importantly, she's wowing her mother and father. While Hathaway is stern about the fact that the roles she takes are the ones that compel her and her alone, she also can't help but acknowledge how thrilled her mother is with her performance.
"She's really happy. It's really exciting to go through this moment," Hathaway says. "To have my love for the show have originated 23 years ago when I saw my mother do it… she is so connected, both my parents are so connected, to this moment, to me, it's a really happy time for us."
Hathway's mother, Kate McCauley Hathaway, played Fantine in a National Tour of Les Misérables, making the role in the film version even more personal for the actress. Hathaway is protective when it comes to revealing how she digs deep into her characters, but says she learned an important lesson from her mother's own experiences playing the part.
"I loved to hear her stories about it," Hathaway says. "Whenever she would go on as Fantine, she would keep my picture on the mirror … so whenever she would have to think of Cosette, all of the love she felt for me would make its way into her performance."
To hear more from Anne Hathaway on her parents' reaction to her performance and an inside look on the strenuous single-shot delivery of "I Dreamed a Dream" (which took 20 takes to shoot!), check out our interview with the actress below:
Follow Matt Patches on Twitter @misterpatches
[Photo Credit: Universal Pictures]
More:
'Les Misérables' Star Hugh Jackman Admits Singing in the Alps Is Harder Than 'Wolverine' Stunts
'Les Mis' Stars Hugh Jackman and Russell Crowe Get in a (Musical) Bar Fight — VIDEO
Early Oscar Buzz Pegs 'Les Miserables', Anne Hathaway, 'Zero Dark Thirty' As Contenders
---
You Might Also Like:


15 Oscar-Winning Nude Scenes


Topanga's Revealing Lingerie Shoot: Hello '90s!