'Les Misérables': How Much Anne Hathaway Will We Actually See? — TRAILER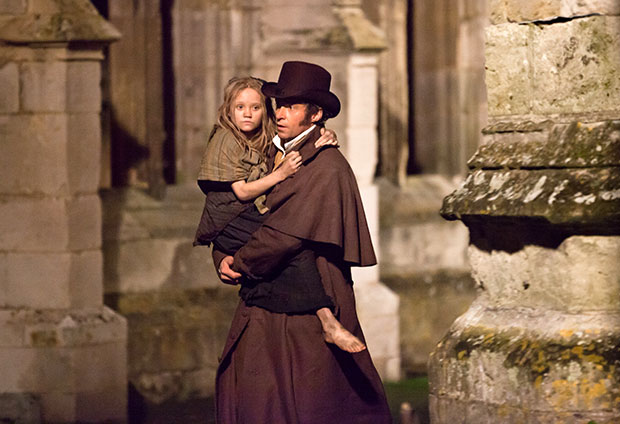 For those who aren't acquainted with either the novel or play versions of Les Misérables, this article contains spoilers.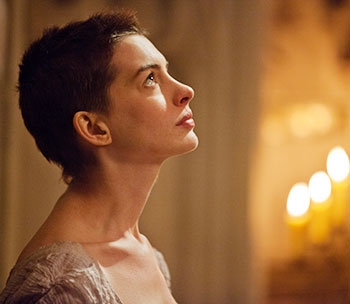 Odds are, even people not in love with, or especially familiar with, the classic Broadway musical are hopping on the bandwagon for the upcoming Les Misérables movie. It has all the right hooks: renowned musical numbers that have pervaded pop culture, an Oscar-winning director (The King Speech helmer Tom Hooper), and, most of all, its outstanding cast: Hugh Jackman as the lead, Russell Crowe the villain, and Anne Hathaway as… a character who kicks the bucket in the first act of the story.
And to those aforementioned souls who have never seen Les Mis, this might come as quite a shock: past promotional material has featured Hathaway as one of the movie's biggest sells (understandably, considering her name's allure). The new trailer, however, does shift the focus a bit: after the first 30-seconds, allowing us a brief snippet of Hathaway's chilling rendition of "I Dreamed a Dream," the actress is sent to the bench, allowing her costars to enjoy the video's focus. Jackman, Crowe, and Amanda Seyfried dominate the remainder of the trailer, duly, while their own respective numbers incite a good deal of optimism for the film to come.
Those expecting Hathaway to take center stage and remain there from start to finish might be disappointed, but it's not as though anyone will really be shafted: the rest of the cast, which includes Helena Bonham Carter, Sacha Baron Cohen, Eddie Redmayne, and Samantha Barks, is more than capable of carrying the venerated tale out, through the explosive climax and straight into the dynamic ending. Check out the trailer below to see what we're in for.
[Photo Credit: Universal Pictures]
More:
'Les Miserables': A Fan Breaks Down the Trailer
'Les Misérables' Poster Recreates Broadway Original with Vivid Reality
'Les Misérables' Poster Recreates Broadway Original with Vivid Reality
From Our Partners:

(Moviefone)