'Les Miserables', 'I, Frankenstein' and the Release Date Shuffle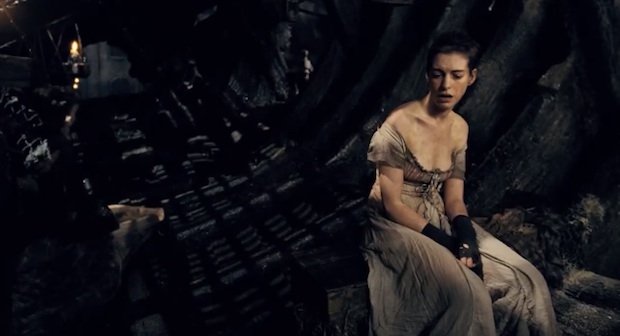 Everybody do the release date shuffle! Unfamiliar with this new dance move that's sweeping the movie nation? Well, allow me to explain: sometimes movies are scheduled to release on one day, and then the studio goes "meh!" and so they move it to another day. It's a really easy move to pick up–which is probably why Universal has done it so often with its Les Miserables adaptation. Originally slated for a December 7th release, the film was moved to December 14th because the studio wanted it to compete with the sure-to-be-runaway-hit The Hobbit: An Unexpected Journey.
Now Universal has decided to switch it up again–perhaps there's a fear that Hobbit moviegoers might also be Le Miz fans as well? So, they've stacked the film to go up against Quentin Tarantino's Django Unchained, since fans of bloody Tarantino flicks will probably not overlap too much with the sad French musical-viewing audience (unless you're our movie editor, Matt Patches). According to Deadline, the studio made the decision after seeing a cut of the film its from director Tom Hooper and feeling it was appropriate Christmas Day fare.
Movies have been making big moves all over this year, as earlier it was announced that The Great Gatsby would be scooting from Christmas 2012 to Summer 2013, and Life of Pi also jumped off Father Christmas and onto November 21st. On top of that, it was also reported that Lionsgate's I, Frankenstein will lurch into theaters on September 13, 2013, rather than its original February 22, 2013 release date. And let's not forget the dance-battle flick Battle of the Year, which is skip-ball-changing (oh, is that not the type of dancing you do in a battle? Better ask the movie's star, Chris Brown) its way from January to September 2013. That's a lot of moves! Now let's get funky!
[Photo Credit: Universal]
Follow Alicia on Twitter @alicialutes
More:
'Les Miserables' Trailer: A Movie Musical Worthy of Comic Book Blockbusters
'Les Miserables': A Fan Breaks Down the Trailer
Anne Hathaway & Hugh Jackman: Bad Hair Day on the 'Les Mis' Set — PIC