'Les Misérables' Not So Miserable: Musical Breaks Records at Christmas Box Office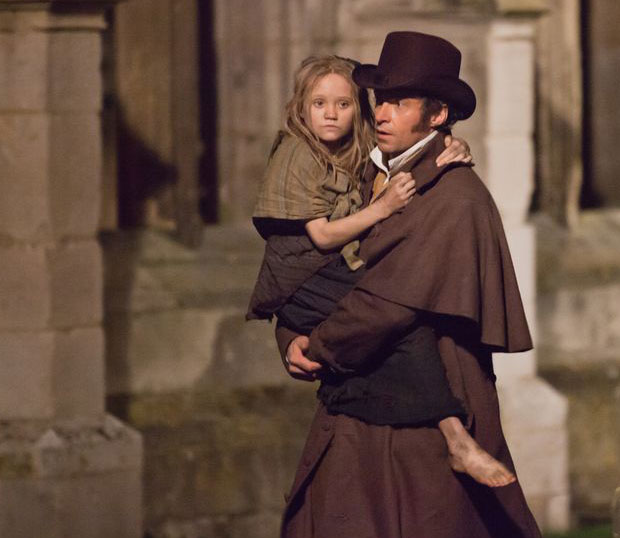 There was a giant Christmas present waiting for Hollywood under the box office tree as Universal's acclaimed musical Les Miserables posted the second biggest single-day Christmas debut ever with $18.1 million!  This is second only to the $24.6 million 2009 Christmas day opening of the first installment of the Sherlock Holmes franchise (and that was on a Friday!). The opening puts Les Mis in the books, now holding the record for the biggest non-weekend Christmas Day opening in history and also the highest ever opening day for a musical.
GALLERY: 9 Wildest Movie Makeup Transformations
If that was not enough to bring good cheer, Weinstein Co.'s latest Tarantino blood-fest Django Unchained, posted the third biggest X-mas day debut with $15.01 million and Warner Bros.' The Hobbit which in its twelve day of release grabbed up another $11.3 million bringing its total to $168.3 million.
In fourth place with $6.3 million was the debut of Fox's PG-rated family comedy Parental Guidance starring Billy Crystal and Bette Midler. Revving in to spot number five was the Tom Cruise action vehicle Jack Reacher with $5.3 million in its fifth day of release bringing its total to $23.25 million.
GALLERY: 10 Least Threatening Movie Villains
This was an incredibly solid mid-week Christmas day performance with the overall day generating over $73 million and the wide diversity of film genres (from musicals to action to comedy) creating a movie-going Christmas cookie sugar high that saw the nation's multiplexes as the main post-gift giving destination. This further solidifies our projection of a record-breaking overall box office year as we expect $10.8 billion in revenues through New Year's Eve.
Take a look at the top Christmas Day openings of all time:
1. Sherlock Holmes
WARNER BROS.
$24,608,941
Fri, 12/25/09
2. Les Miserables
UNIVERSAL
$18,111,665
Tue, 12/25/12
3.  Django Unchained
WEINSTEIN CO.
$15,011,121 EST
Tue, 12/25/12
4. Marley and Me
FOX
$14,380,980
Thu, 12/25/08
5. The Curious Case of Benjamin Button
PARAMOUNT
$11,871,831
Thu, 12/25/08
6. Bedtime Stories
DISNEY
$10,529,000
Thu, 12/25/08
7. Ali
SONY
$10,216,625
Tue, 12/25/01
8. Catch Me If You Can
DREAMWORKS
$9,882,063
Wed, 12/25/02
9. Alien vs. Predator – Requiem
FOX
$9,515,613
Tue, 12/25/07
10. Valkyrie
MGM
$8,493,000
Thu, 12/25/08
11. Cheaper By the Dozen
FOX
$8,175,000
Thu, 12/25/03
12. Patch Adams
UNIVERSAL
$8,090,000
Fri, 12/25/98
13. War Horse
DISNEY
$7,515,402
Sun, 12/25/11
14. It's Complicated
UNIVERSAL
$7,174,195
Fri, 12/25/09
15. Parental Guidance
FOX
$6,317,559
Tue, 12/25/12
[Photo Credit: Universal Pictures]
More:
Is Tom Cruise Still a Box Office Star?
'The Hobbit': Predicting Its Box Office Journey

Surprise! Kate Winset Marries Ned Rocknroll: Wedding Details