'Let Me In' star Kodi Smit-McPhee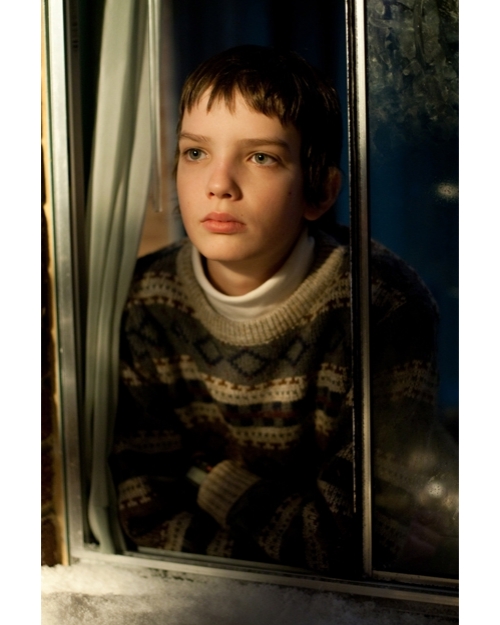 Every once in awhile a newcomer arrives on the screen that obliterates all expectations and, in the process, makes an indelible impression on the viewer. A young actor with the unlikely name of Kodi Smit-McPhee is the co-star of the incredible new film Let Me In from Overture Films. Let Me In is a remake of the acclaimed Let the Right One In which was released in 2008 to almost universal praise. The movie ostensibly is a story of a bullied 12 year old boy who befriends a strange girl who has just moved into his apartment building.
The original was a Swedish production directed by Tomas Alfredson and was hailed as a truly original, thought-provoking work that was refreshingly subtle in its take on the vampire mythology that has been widely appropriated for numerous films and television shows to varying degrees of artistic success. Screenwriter John Ajvide Lindqvist, who wrote the original novel, also penned the screenplay for that international hit and is a co-screenwriter (along with director Matt Reeves) on the American version. His participation has proven essential in elevating this new production to a very high standard in terms of storytelling and dialogue.
14-year-old Smit-McPhee (who played the Boy opposite Viggo Mortensen in the big screen adaptation of Cormac McCarthy's The Road) is absolutely mesmerizing in his role as Owen and is the true heart and tortured soul of the film. This is no small feat considering the incredible performers who worked on Let Me In, including the great Richard Jenkins (The Visitor) and another brilliant newcomer, 13-year-old Chloe Moretz (Kick Ass) who plays Abby, the vampire girl-next-door.
The vulnerability that this young actor is able to convey, particularly in the painful to watch scenes of the almost constant bullying that he is forced to endure at the hands of a sadistic older boy and his minions, is revelatory and heartbreaking. Yet there is always a sense of intelligence and resolve that comes through; as Owen's love and affection for Abby grows we empathize with him and we are remarkably transported back to our own memories of pre-teenage angst and longing.
Of course all of this is set against a backdrop of visual melancholy, interspersed within scenes of intense horror-style violence and gore, all of which serve to heighten the tension and add to the awe inspiring effect of watching director Reeves (Cloverfield) work his visual magic and express his unique cinematic style. The filmmaker drew incredible performances from all of the actors, but it is Smit-McPhee who stands out above the rest. He is the anchor; the one in the film that is most relatable and we are with him every step of the way through this incredibly scary yet heartfelt and touching journey. To call it a mere horror film is an injustice since it is so much more than that.
Hollywood got it right this time and Let Me In is both a worthy successor to its predecessor and a great film in its own right. Be sure to catch it this Friday, October 1st, when it goes into national release.