Liam Neeson Kicks Box Office Butt!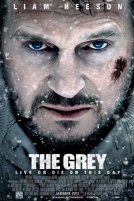 Open Road's R-rated action adventure "The Grey" debuted with a better-than-expected $20 million. Drawing fans of star Liam Neeson's intense turn as a father out for vengeance in the late January 2009 hit "Taken," this latest effort has the 59 year-old actor battling the elements and more than his share of wolves after a plane crash in the Alaskan wilderness and proves that Neeson is one of the top action stars working today.
Sony's Screen Gems "Underworld: Awakening" in 3-D and IMAX topped last weekend's chart taking a $25.3 million bite out of the box office in its debut. The R-rated vampire adventure led the mid-week derby as well and earned $12.5 million in this, its second weekend, for a North American total of $45.1 million through Sunday.
Lionsgate's Katherine Heigl comedy "One for the Money" performed well with a stronger-than-expected $11.75 million. The distributor shrewdly used a Groupon promotion as well as other key marketing strategies to build the audience which was 79% female) for the film and drew fans of the book series upon which the film is based. Lionsgate's recent acquisition of Summit Entertainment has made headlines and this was certainly a positive weekend for the company.
Flying into its second weekend, Fox's World War II drama "Red Tails" set its sights on a $10.4 million gross. The true story of African American pilots in the Tuskegee training program had a stronger-than-expected $18.8 million debut last weekend and now has $33.8 million in the war chest. Cuba Gooding Jr., Terence Howard and Bryan Cranston star in the PG-13 rated film which is executive produced by George Lucas.
"Avatar" star Sam Worthington is the "Man on a Ledge" which opened this weekend from Summit Entertainment and earned $8.25 million. The taught PG-13 crime thriller centers around an ex-con who is threatening to jump from the ledge of a very tall building in the heart Manhattan, thus keeping the police distracted, while a diamond heist is taking place.
In the wake of nominations on Tuesday, major Oscar nominees got a nice "Oscar bounce" as their greater visibility and credibility made them more of a "must see" this weekend. "The Descendants," "Hugo," and "The Artist" all saw solid percentage increases as a result.
Weekend Box Office (Estimates)
Top Movies for Weekend of January 27, 2012
Movie Weekend Gross Total to Date
1 The Grey (R) $20.0M $20.0M
2 Underworld: Awakening (R) $12.5M $41.1M
3 One for the Money (PG13) $11.75M $11.75M
4 Red Tails (PG13) $10.4M $33.8M
5 Man on a Ledge (PG13) $8.25M $8.25M