Liam Neeson to 'Run All Night' as the Mob Hunts Him Down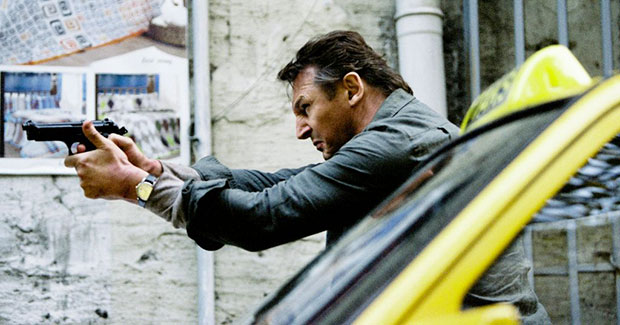 Back in October, Hollywood.com got a chance to meet Liam Neeson in preparation for the release of Taken 2. And although an intimidating force, we found him to be quite a kind and pleasant gentleman. So why, then, does it seem like everybody wants to kill him?
The latest in Neeson's death-defying exploits is Run All Night, the Warner Bros. action thriller that Deadline reports has just officially signed the actor to star. Following his 2012 face-offs with Eastern European gangsters, seafaring aliens, Greek gods, vicious wolves, and Bruce Wayne, Neeson will find himself playing a hit man forced to overthrow his nefarious mobster boss. Adding to the peril is Neeson's estranged son, who is along for the fast-paced ride. Hollywood.com has reached out to Neeson's reps for confirmation on the casting.
Reports point to Jaume Collett-Sera as the film's potential director. Neeson led the filmmaker's 2011 mystery thriller Unknown, and is presently working with Collett-Sera on another action pic with a kinesthetic title: Non-Stop.
As Neeson enters his 60s, the steady hero is becoming more and more an action centerpiece. Were it not for his history of dramatic triumphs like Schindler's List and Kinsey, Neeson's simultaneous casting in both the mentioned developing pictures might suggest a typecasting situation. However, we know that we can expect more from the man than shoot-'em-ups and not-without-my-daughters. But for those seeking only high stakes thrill rides, Neeson does indeed know how to deliver.
[Photo Credit: 20th Century FOX]
More:
'Taken 2' Writer Talks Sequelizing, Says Success Means 'Taken 3' Is On
'Hansel and Gretel: Witch Hunters': Renner and Arteron Rise to Action — EXCLUSIVE PICS
'Mud': Matthew McConaughey Might Be a Crazy Vagrant… Kind of Like Real Life — TRAILER

100 Hottest Women of the Century: Do You Agree?