Lies to Tell Brooklyn Decker to Get Her to Date You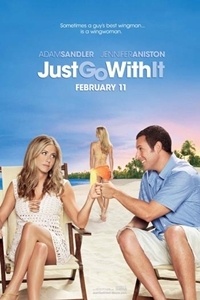 Adam Sandler plays Danny, a doctor, in his new movie, Just Go With It, who, despite taking the "do no harm" oath in medical school, picks up women by pretending he's married and gaining their adoration by wearing a fake wedding ring and telling lie after lie. But on the day he meets Palmer (Brooklyn Decker), who he believes to be the girl of his dreams, Danny decides to try and win her heart honestly and without the help of the ring. But when Palmer finds it and tries to break up with Danny (because, you know, it's a wedding ring he didn't tell her about), he lies on behalf of the relationship's potential and says he's in the process of getting divorced. That gives way to a whole other bunch of lies that involve Jennifer Aniston.
But the whole scenario got us thinking, what other kinds of lies you would have to tell Brooklyn Decker in order to get her to date you. (You'll also notice I embedded videos of Brooklyn to emphasize how appealing an "honest" you would be to her.)
Lie #1: 'Tennis Players Suck'
Brooklyn Decker is married to tennis player Andy Roddick so if you're going to date her, you're going to have to get her to forget about him. This should be pretty easy, but not because you're some kind of rugby champion. Roddick's had some memorable moments over the course of his career and currently holds the record for the fastest serve ever recorded in professional tennis, but he hasn't won a Grand Slam title since 2003, and he's only 28 years old…(which means he's not really a great tennis player anymore). So to help her get her mind off him and on to you, get her to focus on the people who make actual contributions to society (like firemen, police officers, tax attorneys, roller coaster operators, and the people in charge of programming at MTV), and point out that tennis players are only good for making the line to donate blood easier to wait in. (It would also help if you could serve a tennis ball faster than 155 miles an hour, but it's not required. Obviously you can come up with reasons for why that hints at a propensity for violence.)
Lie #2: 'I Love The Dave Matthews Band'
Brooklyn is a ginormous fan of Dave Matthews, so in order to even get a date with her (without spending money on concert seats) you're going to have to pretend to like them. This will become especially hard when you remember the time Dave and his band emptied their tour bus's septic tank into the Chicago River (releasing 800 pounds of human waste), and are forced to admit how the incident was not any different than an old lady revamping her vegetable garden.
Lie #3: 'You can still be President…or a Veterinarian'
When Brooklyn Decker was younger, it never occurred to her that one day, she'd have the stunning body she has now. This is obvious from her saying that when someone would ask her what she wanted to be when she grew up, she'd cite occupations that are normally reserved for regular-bodied people, like "the president" and "a vet." Of course she can never be either one of those because the body in these videos was not made to be covered up in a pantsuit and hidden away in the corner of some Senate seat or overshadowed by a veterinary sciences diploma, but I bet she'd really like to be around someone who's in favor of her giving serious thought to a platform or any developments that have been made in parakeet resuscitation.
Lie #4: 'Your Name is So Awesome'
Brooklyn claims she got her name because her mother's best friend had a horse whose name was Brook, and her mother just loved the sound of it. Brooklyn's dad made a joke that they should name their soon-to-be-born daughter "Brooklyn" because it would be funny if they set their daughter up for a lifetime of jokes about her conception or something, but her mom insisted that should be their child's name because it was the most beautiful thing ever. So even though "Brooklyn" is much more properly suited for a bunny you happened to spend $10 dollars on at a flea market in Park Slope because he had a green scarf wrapped around his neck and had a cane in one of his little paws, you'd have to act like it's not.
Lie #5: 'You Would Have Saved Transformers 3'
Brooklyn was considered as Megan Fox's replacement in Transformers 3, but the part ultimately went to Rosie Huntington-Whiteley. Brooklyn's probably not terribly torn up about it because she's never expressed interest in being a full-throttle movie star and remains grateful to have become a model (and she's also in her own movie now), but if it ever came up in conversation you'd have to say that the casting director who chose Rosie over her was an idiot and now the franchise has absolutely no chance of being anything significant.
Lie #6: 'I Just Love Working Out'
Brooklyn has said she's not one of those models that can eat whatever she wants without ever thinking twice about it. In truth, she works hard to maintain the body she has, and she does this by going to the gym four or five times a week for 90 minutes and doing cardio, weightlifting, yoga and boxing to stay in shape. So if you're hoping to enter into a longstanding relationship with her, you're going to have to make it seem like your lifestyles are compatible and that maintaining good physical fitness is also on your list of priorities. Which means just like you've seen guys do in the movies, you should talk a big game about your inversions and arm balances in order to get invited to go to her yoga class with her.
Lie #7: 'Wow, You Actually Look Hotter in Sports Illustrated'
If none of the other lies get you anywhere, don't be afraid to break out some criticism that makes her question the success she's had as a model. Think along the lines of, "geez, that's your nose?" and "oh, well, we should really stop attacking the people who photoshop images because they obviously do great work." You may think this is the meanest tactic to employ, and in a way, it is — but it's quite possibly the most effective because it'll make her feel like she has something to prove to you. Basically, if you give her a negative comment she's never heard before, she's going to want to dig hard to find out why you're the first person to make that observation. So say you lie and remark that her breasts are terrible. Since she's been told for years now that her breasts are perfect, she's going to think it's weird that you're the first person to say they're the worst and she's going to want to prove to you that they are, in fact, pretty fucking perfect. This will have her so infatuated with you that she'll be begging you to come over to her house and sit on her couch, just so she can try things on for you. Now, doesn't that sound like just the perfect way for a relationship to start?