Lindsay Lohan Dyes Marilyn Wig Brown For Liz Taylor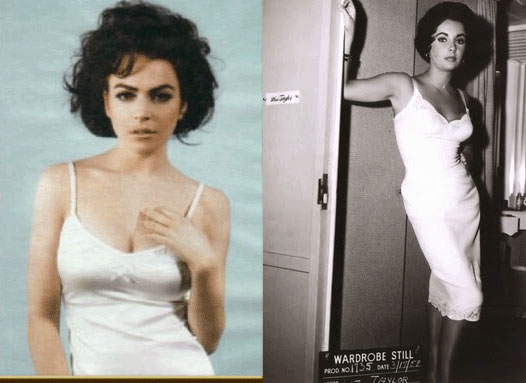 America's favorite bastion of good life decisions, Lindsay Lohan, has been convinced by Lifetime to dye her Marilyn Monroe wig brown. Lohan's new gig as the venerable Elizabeth Taylor for the biopic Liz & Dick has people wide-eyed and curious as to how she will handle the role. The answer? With terrible hair!
Lohan recently changed her Twitter profile picture to an image of herself in a wig that allegedly makes her look perfect to play the part of Dame Elizabeth. Let's take a look, shall we?
Hear that? That was the sound of a collective Honey Boo Boo Child moment across all of the Internet. Upon hearing that very-much-unattractive Grant Bowler fellow was cast as her leading man, Richard Burton, Lindsay got down to work.
'Time to make the transformation complete!' She thought to herself while she climbed up the stairs of her Hollywood mansion. Past the photos of her ginger heyday, the bronze statue of her mother Orangina Dina Lohan—straight through to the bathroom with a box of Power Brunette hair dye in her hands.
'Scrub, scrub scrub!' she sang as she threw the wig into the bathtub and began applying the dye. 'Only 25 minutes until I am a serious actress again, at last!' Lindsay could hardly stand the wait until the dye was finished, so she applied her purple contacts to complete the look, staring at herself in the mirror—trying to find the perfect amount of pouting mystery and tortured soul within her eyes. 'I don't know why I ever thought I was a Marilyn when I am so clearly destined to be a Liz Taylor!' she smiled to herself as she said it, snapping a picture in the mirror to remember the genuine emotion she felt for the first time in ages.
The wig was taking forever! Impatient as she was, she grabbed the wig and rushed out the door, brown dye trailing behind her as she got into her car and raced over to Grant Bowler's house. Lindsay held the wig out the window as she tore through the hills. Arriving at Grant's house she ran up to the door, tossing the wig atop her head, and smiled—a real, true smile, or what she believed them to be. It had been so long. Grant opened the door, bewildered, and questioning who this young woman was in front of him.
"Oh, Dick!" Lindsay said, fluttering her eyelashes, hip cocked in an exaggerated manner, arms outstretched. "It's me, your darling Liz! At long last!"
Follow Alicia on Twitter @alicialutes
Image via Lindsay Lohan's Twitter
MORE:
Lindsay Lohan May Play Elizabeth Taylor in a Lifetime Movie
Lindsay Lohan Dines With Woody Allen: Feast Your Eyes On The Unlikely Pair
Lindsay Lohan Set to Play Liz Taylor: Four Reasons It's Meant to Be