Lindsay Lohan Makes Her First Foray Into Porn in 'The Canyons' Trailer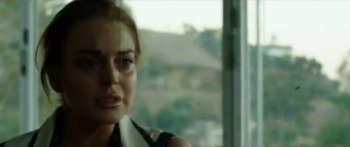 Lindsay Lohan has played Liz Taylor, a nun, a race car driver, a pair of twins who want to get their parents back together, and a pair of twins who are both strippers and one of them is dead and maybe one of them is a murderer — but now she's finally playing a porn star.
Anyone who has been watching her career knows that it was headed in this direction. No, not because she's dirty, but because she fought so hard to play a porn star in Inferno and it didn't happen.
Now is her big chance, and starring next to a real actual porn star, no less.
Here is the trailer for The Canyons, a movie about the porn industry from Twitter scourge Bret Easton Ellis that stars Lindsay and James Deen, a man who uses his considerable, um, talent in the making of adult movies.
RELATED: Lindsay Lohan Found Unconscious, Treated For 'Exhaustion'
The trailer is made like an old grindhouse movie reel, with no dialogue, a bouncy score, grainy footage, and some seriously crazy font telling us what to expect. We don't learn very much about what happens in the movie, but between Lindsay, porn, and the director's obvious dedication to genre is almost enough to get me to buy my ticket now.
Or maybe just rent I Know Who Killed Me again. It's practically the same thing.
Follow Brian Moylan on Twitter @BrianJMoylan