Linsanity Spreads to Documentaries: Jeremy Lin Biopic On the Way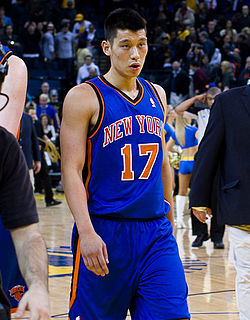 NBA phenomenon Jeremy Lin's basketball season may be over (he recently underwent knee surgery that will keep him out for at least another month-plus), but his fairy tale story is still unfolding — and will soon be told at a theater near you.
A documentary about the New York Knicks point guard is currently in the works, and will cover his movie-ready benchwarmer-to-star(ter) story and beyond, including his well-known strong Christian faith and his days at Harvard University.
Lin's good friend, Evan Jackson Leong — onetime assistant to Fast Five's Justin Lin (who shares nothing more than a last name with Jeremy, by the way) — will direct the as-yet-untitled doc, which he has apparently been working on for years, long before Linsanity captivated New York City and the entire basketball world.
Lin, who grew up in the tech capital of the U.S., Palo Alto, has been a social-media fixture, with a video series on YouTube (and an assist from the aforementioned Leong) and highly popular Facebook and Twitter pages.
More:
Jimmy Fallon Embraces Linsanity with Pearl Jam's "Jeremy (Lin)"
'Bully' Review: You Won't Understand the Problem Until You See It
Why It's OK If 'The Newsroom' Is 'Sports Night' 2.0