'LOL' Trailer: Miley Cyrus <3s Her BFF, Demi Moore Says "OMG! IDK What to Do!"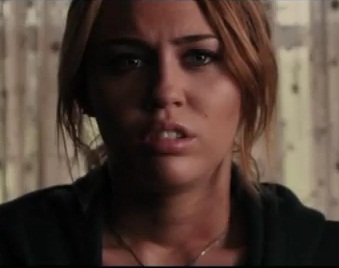 There was a bit of heat circling LOL due to reports that Miley Cyrus's character would be depicted smoking marijuana in the film. There is no sign of that in the new trailer (you'd probably have to wait for a Red Band trailer to see something like that); in fact, instead of any of the coming-of-age "wrongdoings" promised by the movie's plot, the trailer focuses almost entirely on the idea of young love. Which is nice and all, but a little too generic.
There are shots of Demi Moore, who plays Cyrus' mother, stressing about her daughter's bad choices. However, none of those bad choices are really present in the teaser. Instead, the movie seems more focused on Cyrus' love triangle between her obnoxious ex and a nice-guy friend, presented through bouts of extreme joy and sadness and a periodical Facebookian status update. But the real stuff, the earnest idea of making mistakes as you grow up, isn't really shown.
How the movie will actually balance these themes is yet to be seen, but hopefully it will sway a little further from the hokey romance and closer to the authentic coming of age tale.
More:
Miley Cyrus Goes Wild in New LOL Trailer
Demi Moore Won't Let Miley Cyrus Be a Porn Star In LOL