'Lola Versus' Director Daryl Wein On The Art of Big Screen Breakups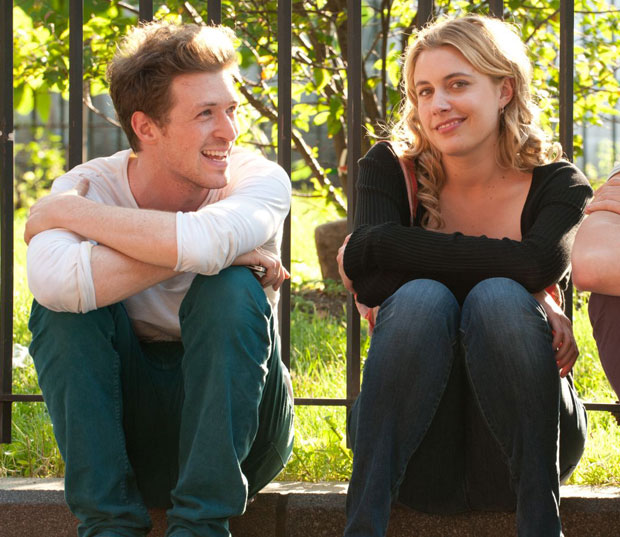 Daryl Wein is in the business of breakups. While the 28-year-old indie wunderkind, whose breakout Breaking Upwards was based off his real-life split from his collaborator, writer/actress Zoe Lister-Jones (the two have since reunited) is back in the saddle with their latest trip to Splitsville, the romantic dramedy Lola Versus. 
Only this time, it's not their relationship being put under the microscope of the big screen. In fact, the titular Lola (played by Greta Gerwig, pictured on set with Wein) isn't based on anyone in particular, but an amalgamation of bad breakups. 
During an interview with Hollywood.com, Wein, who served as both director and co-writer (alongside Lister-Jones) for Lola Versus assures, "The script is fictional, nothing in the script actually happened to us." While Wein says they used some of their single friends as "inspiration," they really "just kind of used that world as a jumping-off point." 
But the real jumping-off point for Lola Versus came when Wein and Lister-Jones were riding high off the success of Breaking Upwards back in 2009.  "On the festival circuit [for Breaking Upwards] we were talking about our different experiences when we were single and realized Zoe's was a lot more interesting and traumatic as a woman than it was for me as a man," Wein explains, "We weren't seeing a lot of single, female, post-breakup stories in film that felt authentic and real and funny. So we figured, 'Let's go make that'." 
And so they did. Penning Lola Versus almost immediately after promoting Breaking Upwards and shooting it a year later, they made their movie — about a late twentysomething New Yorker whose life unravels after her fiance unexpectedly calls off their wedding —with a specific purpose in mind. Lola wasn't going to be another heartbroken girl whose life looked far too glossy for someone going through such a dark experience. 
"We thought it was important to show women that were more raw and tough than were typically portrayed. I think there's this expectation that women have to be proper and always winning and I think that stems back to our puritanical roots in America and society of keeping women at bay. It's almost a chauvinistic attitude towards them," Wein explains. "You've seen men get to be messy and buffoons [in movies] and it's nice to see women getting to speak unapologetically about what they're going through. It's important to put that side on the forefront that challenges the expectation of what a typical protagonist is supposed to be." 
And Lola is the opposite of a rom-com protagonist in every sense of the word. In the throes of her breakup, Lola makes a series of unfortunate decisions, including hooking up with her ex's best friend. "Sometimes it's hard to like [Lola]," Wein admits, "but that's the important part of capturing the authenticity of what it's like to be in a post-breakup spiral. You're not always going to be this glowing ball of positivity. You're in that funk of trying to get back on your feet and people aren't always going to like you. You're making mistakes or you're crossing boundaries sometimes. But you learn from that and eventually, hopefully, you come out learning something about yourself." Spoken like a true breakup survivor. 
Now being on the happy side of the relationship coin, Wein got to enjoy the fruits of his Lola labor, including getting to work with one of his personal favorites: Bill Pullman. "[He] is such a sweetheart," Wein says of the veteran actor who plays Lola's wise, easy-going father Lenny. "I've always loved [Newsies] and when I told him that on set he was like, 'Of all the movies I've done that's the one you like the most?' and I was like 'I got a soft spot for musicals, man.' 
Wein's musical inclinations proved to be helpful in finding the right sound for Lola Versus. Wein recruited eclectic Brooklyn group Fall On Your Sword to set the score for the film. "I heard their score in You Won't Miss Me and I thought it was really exciting and it felt fresh. They felt like the perfect fit to elevate what we rend to think of scores for these [types of] movies," Wein says of the band, who also created the score for the drama Another Earth.
"I was looking to have a score that wasn't as traditional as typical relationship scores, which tend to be with orchestral or acoustic guitar type stuff. So I really wanted something that was a little bit edgier and that felt more current and contemporary and modern." Sounds like Lola, alright. 
Lola Versus opens in select theaters today. 
[Photo credit: Fox Searchlight]
More: