'Lola Versus' Star Greta Gerwig: Why "It's a Really Special Time to Be a Girl Making Movies"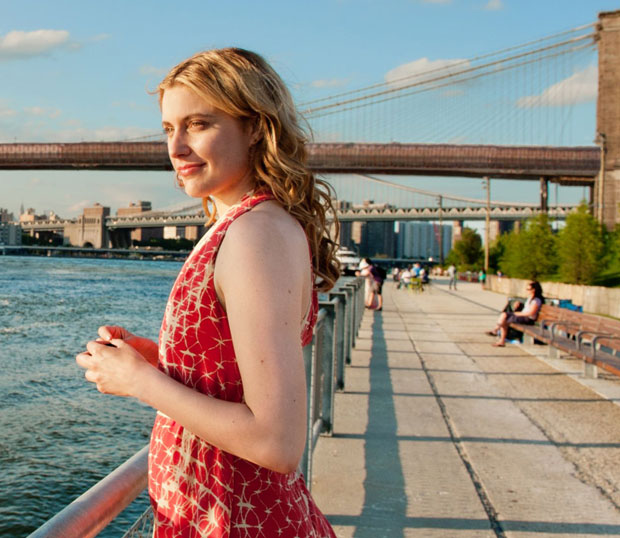 Timing, as we all know too well, is everything. Whether it be in an ultimately ill-fated relationship or being unconventional in Hollywood during a time when offbeat is not only celebrated, but a success story. It all comes down to timing. 
So it's fitting that actress Greta Gerwig, she of indie cred like Greenberg and Damsels in Distress, is appearing in the new romantic comedy Lola Versus. A movie about that time in a young New Yorkers life when the timing is completely wrong just so happens to be out at the same time as cultural game-changers like Girls and Bridesmaids leading the charge. 
The impeccable timing and inevitable comparisons of her lovelorn Lola — a smart, but fumbling late twentysomething who is dumped by her fiance just weeks before their wedding and is left to pick up the pieces of her life — to the recent trend of flawed female characters is something that resonated with Gerwig, who chatted with Hollywood.com about her latest project. 
"She's the hardest to love," Gerwig says of the titular Lola in Daryl Wein and Zoe Lister Jones' observational urban relationship comedy, "Usually they're kind of perfect and have no flaws or their flaws can be gotten over in a day. [Lola's flaws] are deep and she makes big mistakes and I really liked that." While Gerwig, who has also starred in more mainstream fare like No Strings Attached and Arthur, says she's not opposed to that type of moviemaking ("I go both ways…I love Notting Hill, I love those [kinds of] movies") she is happy to be part of the new wave of female-driven rom coms. 
"It's a really special time to be a girl making movies because there's a certain craving for people who look more like people you know, people who seem like people you know," Gerwig tells Hollywood.com, "I think that's true of Bridesmaids and a lot of these movies, they just don't alienate you. You recognize them, even when that's painful." 
Of course, even if Hollywood has finally caught up with finding beauty in flaws with entertainment like Lola Versus, Girls, and Bridesmaids, Gerwig admits it even took her a little time to get there. "I went through a phase of really wanting to fit in and be like everyone else and be that beautiful starlet that has no flaws," she says, adding, "I think, really, at the end of the day for me it's so much more powerful and special to be able to accept myself for who I am and not try to change it." 
It's a good thing for Gerwig that she opted to stay true to herself than mold to the typical Hollywood conventions: the 28-year-old's talents caught the attention of the one and only Woody Allen. Gerwig appears in the Oscar-winning legend's latest international love letter To Rome With Love, an experience she says was "totally surreal and amazing." 
"It was [filmed] in Rome, so that just added to the feeling of 'Where am I and what's happening?'," Gerwig explains, "I was just so honored and grateful to be able to work with him. It doesn't even feel like I actually got to do it because it went by so fast and I was nervous the whole time. I hope I get to do it again one day so I can actually savor it." 
Still, even with Gerwig's good fortune to work with the likes of icons such as Woody Allen and her Lola Versus co-star Debra Winger ("She's a woman who has not been put into a cookie cutter mold….it felt so special to work with someone like that, who didn't succumb to pressure to be a certain way,") sometimes the timing can still go wrong. 
Gerwig was part of Noah Baumbach and Scott Rudin's all-star television adaptation of Jonathan Franzen's acclaimed novel The Corrections. The family drama, which also starred Ewan McGregor, Dianne Wiest, Chris Cooper, and Maggie Gyllenhaal, was passed over by HBO. "I think it's not going to happen," Gerwig says of the fate of the project, "It was an amazing cast and an amazing script. I think ultimately it just wasn't for television and I think they realized that. Maybe it would have worked better as a miniseries." 
But Gerwig isn't taking the Hollywood timing misfortune to heart. In fact, she has all the positivity of the smart, hopeful twentysomethings that are touching a nerve with audiences these days about it. "It's just one of those things. It was a bummer, but thems the breaks." 
[Photo credit: Fox Searchlight] 
Follow Aly on Twitter @AlySemigran