'Lorax' Tops 'John Carter With $39.1 Million!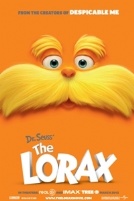 Universal's "Dr. Seuss' The Lorax," absolutely shattered expectations last weekend with the biggest opening of the year thus far with $70.2 million. The animated family film has been a mid-week favorite as well impressively earning around $3 million per day. The first quarter hit tops the chart for the second weekend in a row with $39.1 million and a 10 day total through Sunday of $121.950 million.
Disney's mega-budget action adventure "John Carter" had much to prove this weekend as it hit 3,749 theaters as well as 3-D and IMAX showings. The film based on Edgar Rice Burroughs' "A Princess of Mars," has a long road ahead to recoup its reported $250 million budget and as such has been subject to intense media scrutiny. A $30.6 million North American debut was bolstered by an international opening of $70.6 million for a solid worldwide debut of $101.2 million. IMAX once again more than pulls their weight with $5.0 million (or 17%) of the weekend gross in 289 theaters.
Warner Bros.' R-rated comedy "Project X" from producer Todd Phillips partied its way to a better-than-expected $21 million last weekend and keeps the festivities in full swing in its sophomore weekend. $11.550 million lands the film in third place and with $40.1 million in North America by Sunday night.
The R-rated horror was be brief yet effective in the 88 minutes of "Silent House" from Open Road Films. Captured in real time and "inspired by true events," this story of a young woman trapped inside her family's lakeside retreat earned $7.010 million in its debut weekend.
Rounding out the top 5, Relativity Media's "Act of Valor" continues to be a solid performer as it enjoys its third weekend of release. The R-rated action drama that features live ammo and real Navy SEALs added another $7 million to its war budget will have a total of $56.1 million in North American dollars by Sunday night.
Opening in 1,890 theaters, Paramount's "A Thousand Words" starring Eddie Murphy narrowly missed a spot in the Top 5 with a gross of $6.35 million.
The box office continues to go up up up as year-to-date revenues are running 18.28% ahead of last year at this point with every weekend beating the comparable frame a year ago since January 6.
Weekend Box Office (Estimates)
Top Movies for Weekend of March 9, 2012
Movie Weekend Gross Total to Date
1 Dr. Seuss' The Lorax (PG) $39.1M $121.95M
2 John Carter (PG13) $30.6M $30.6M
3 Project X (R) $11.55M $40.125M
4 Silent House (R) $7.0M $7.0M
5 Act of Valor (R) $7.0M $56.1M