'Lorax' Versus 'John Carter' in Box Office Upset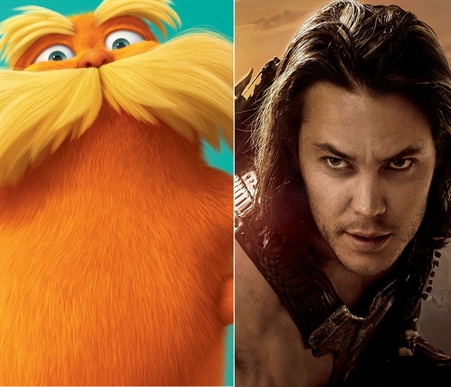 UPDATE: Disney's big-budget sci-fi John Carter led the box office on Friday with an estimated $9.8 million. But…most experts agree that the movie will have a hard time hanging on to the lead. Why? Saturday and Sunday is prime movie-going time for families, who are still expected to turn out in droves to see Dr. Seuss' The Lorax.
Believe it or not, there was a time in Hollywood history where it was routine for a movie to stick around at the top of the box office charts for weeks, its theatrical running twice as long. Now, it's all about that debut weekend—is the movie a hit or a dud? Studios, and in turn, audiences, live and die by that golden opening number. So you can see why the folks over at Disney might be sweating when initial predictions for their giant sci-fi blockbuster, John Carter, peg it in the number two spot. Regardless of the gross, that's not a win.
According to Hollywood.com Box Office expert Paul Dergarabedian, John Carter will open in 3,749 theaters, from standard screens to 3-D to IMAX—but is still trailing behind last week's big winner, The Lorax. "The animated family film has been a mid-week favorite as well impressively earning around $3 million per day. The first quarter hit is now poised for a second weekend atop the chart with a potential gross in the $50 million range and a 10 day total through Sunday of over $130 million."
The Lorax hit at a particularly sweet spot in the movie landscape—up until its release, there hadn't been a family friendly film since Alvin and the Chimpmunks in December. While John Carter is the first certified blockbuster of 2012, awareness and anticipation for the film, which is based on the 100-year-old novel by Tarzan author Edgar Rice Burroughs, seems to be low and fizzling (if our off-the-cuff poll has any clout). Paul adds, "An expected debut of around $30 million will put much pressure on the overseas returns to make up the difference for the PG-13 rated release."
Adding to the underwhelming performance is a meager $500,000 midnight show box office, which signals worse things to come as the weekend progresses.
But 2012 has been an unexpectedly profitable year at the box office, and this weekend's holdover releases should have no problem continuing the success. Paul predicts teen party comedy Project X to double up for a $40 million combined gross, while Navy SEAL action flick Act of Valor adds another $7 million for a total of $60 mil. The week's other new releases should fare reasonably well, with Eddie Murphy's A Thousand Words looking at $6 – $8 million and haunted house horror Silent House scaring up $8 – $10 million.
Check back Sunday, when Paul crunches all the numbers to see who came out on top. Which movie is going to earn your hard earned cash this weekend?
="font-style:>@misterpatches and remember to follow @Hollywood_com!