'Lord of the Rings' Extended Versions Coming to Blu-Ray?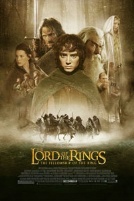 You know what makes a Friday afternoon even better? Lord of the Rings news, that's what.
After releasing a Lord of the Rings Blu-ray edition in the spring of 2010, many fans were upset that it didn't include the extended versions of the blockbuster films, along with all of those features and goodies from those monstrous extended edition DVDs that were released a few years back. To those upset fans, we have some good news today. Well, we won't lie: it's total speculation. Anyway, The Digital Bits reports that the beloved extended editions will be coming to Blu-ray later this year. Here's what they had to say.
Our sources are NOW telling us that WHV (and their now in-house New Line label) is ALSO planning to release Peter Jackson's long-awaited The Lord of the Rings Trilogy: Extended Editions on Blu-ray sometime this year. No kidding. We suspect that, now that The Hobbit films are finally about to begin filming, the studio is eager to get more product on store shelves to keep the franchise fresh in the minds of fans.
As stated, these are all rumors. But, I can't imagine why there wouldn't be any truth to this. After all, The LOTR trilogy made a butt-load of money, so I can only imagine that Peter Jackson is taking a page from the James Cameron-Avatar book, and that's simply a.) release an awesome move, b.) release said movie at least 6 more times, and finally c.) profit. Voila!
Source: The Digital Bits