Watch the Trailer for the M.I.A. Documentary That Needs to be Made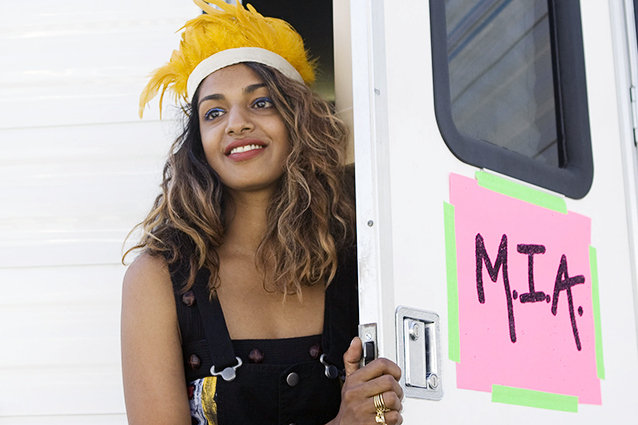 Forget Katy Perry's Teenage Dream  and Justin Bieber's Never Say Never,  M.I.A.'s story must be told, so someone better get on this chop-chop. We thank you in advance.
A teaser for the M.I.A. documentary features a slew of footage of the star, beginning with M.I.A.'s (born Mathangi Arulpragasam) origins as the daughter of a militant Tamil separatist group leader and taking us through her rise to rap superstardom. The trailer even delves into her racy fights with Diplo, Sri Lankan politicians, and also the FCC. Fiesty, eh? Oh and to top it off, interviews with Kanye West, Jimmy Iovine, and Spike Jonze are thrown into the mix. Once again: this movie. must. be. made. NOW. 
The trailer teaser for M.I.A.'s documentary (below) was leaked by the film's director Steve Loveridge, who posted it to his tumblr in reaction to the insane delay in the film's production and distribution. Loveridge uploaded the teaser praying that this would be a "wake up" call to Roc Nation, M.I.A.'s label. 
A rep from Roc Nation reached out to Loveridge, condemning him for posting the teaser. But frankly, Loveridge didn't really give a s**t. Although Roc Nation addressed issues with "legal stuff and funding," in an email to Loveridge (which he also made public on his tumblr) the director wasn't having it — he says he is now bowing out of the project entirely. "Count me out. Would rather die than work on this…" says Loveridge.
Not only is Loveridge peacing due to lack of support from the label, it appears that M.I.A.'s flying solo as well. The rap star tweeted that she would use Kickstarter and support from her fans to revive the production of her documentary.
While we impatiently await the arrival – if it ever arrives, that is – of this documentary, we shall blast M.I.A.'s latest politically-heavy tune "Only 1 U" for all to hear. Roc Nation, listen up and put some money down — frankly, we know you can spare some cash for this masterpiece.
Follow Cori on Twitter @gimmegimmeCOR 
Follow Hollywood.com on Twitter @Hollywood_com
More:
Mind Over Money: M.I.A. Releases New Song 'Only 1 U' – LISTEN
Could Amanda Bynes Be The Next Big Rap Star? 
Jimmy Kimmel Crashes Robin Thicke's 'Blurred Line's Music Video 
---
From Our Partners


Stars Pose Naked for 'Allure' (Celebuzz)


20 Grisliest TV Deaths of 2012-2013 (Vulture)