While last week we delved into the slightly esoteric by pondering on the whereabouts of director Fred Dekker, this week the name on our list is just a tad more familiar. This week we turn our searchlight from the director's chair to the Hollywood Walk of Fame. Make sure to shake, but not stir, plenty of vodka martinis because this week we're searching for Sean Connery.
Why We Love Him
You'd have to travel a great distance to find someone who hadn't at least heard of James Bond; somewhere in the Andromeda galaxy would possibly suffice. This is a character deeply ensconced in both international cinema and pop culture and while many actors have played the role, Connery was the very first and, in the minds of many Bond fans, the very best. He was a powerful force of manliness with razor-sharp good lucks, quick wit, and lethal coldness. He was everything Ian Fleming had created in his original James Bond novels.
While donning the mantle of James Bond, Connery starred in some of the most seminal films of the franchise. Dr. No developed the formula, From Russia with Love already sought to improve upon that formula, and Goldfinger's doomed, gilded beauty is among the most iconic images in cinema. Connery succeeded in proving himself as both a fantastic actor and a formidable action hero. He turned what could have been a couple of popcorn genre movies about spies into one of the most successful film franchises in history. His efforts ended up commanding him record-breaking salaries; much of which the man donated to charity for crying out loud.
The incredible thing about Sean Connery is that he was every bit as powerful a screen presence in his old age as he was in his youth. The roles he would play as a distinguished actor approaching his 60s were among some of his very best. I would mark the beginning of this period with his turn in Brian De Palma's The Untouchables playing a tough, flat-footed Irish cop helping Eliot Ness take down Al Capone. His final scene in that film is still absolutely devastating even upon repeat viewings.
But Sean wasn't finished yet. He would then turn in an instantly endearing performance as the father of one of moviedom's greatest heroes in Indiana Jones and the Last Crusade. The comic relief he provided as a bumbling, but still very lovable archaeologist was phenomenal and further demonstrated his amazing range. I also love that there are several jokes made throughout the film related to his retention of his sex appeal; a nod to Connery's incredible the staying power. Top that off with sensational turns in The Hunt for Red October and The Rock and it becomes clear that ol' Sean hadn't lost a single step in his old age. His being voted People Magazine's Sexiest Man Alive in 1989 at the tender age of 59 certainly serves as evidence of this.
What Happened to Him?
What happened to Sean Connery? The League of Extraordinary Gentlemen happened to Sean Connery. Now granted, this was far from the first flop of Connery's career, but it was apparently one he felt so personally embarrassed by that he decided to retire from acting altogether. While I not at all prepared to defend The League of Extraordinary Gentleman, I am confident that, had he not retired, Connery would have easily bounced back from it. This of course begs the question as to why others in Hollywood didn't follow this same model; I will dance for joy the day I find out that Friedberg and Seltzer, humiliated to find they have absolutely no talent, retire from filmmaking forever.
Where's He Been?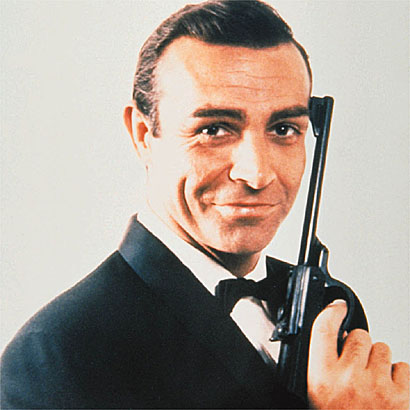 Apparently, and unfortunately for all of us, retirement really seems to be agreeing with Sean. He's been playing loads of golf, enjoying his knighthood, and winning a slew of lifetime achievement awards. Despite announcing his retirement, several roles have been offered to Sean in the hopes that they would entice him back to the silver screen. He has turned down roles in The Matrix sequels and even the opportunity to reprise his role as Dr. Henry Jones in Indiana Jones and the Kingdom of the Crystal Skull. He had said that if anything could have pulled him from retirement it would have been another Indiana Jones film, but in the end decided he was having too much fun being retired.
What Now?
Perhaps with the sweet relief he must feel for turning down the enormous pile of festering waste that was Indiana Jones and the Kingdom of the Crystal Skull, he may have gained a slightly renewed confidence in his ability to choose roles. I'm of course grasping at straws, but it pains me to no end that Sir Sean is no longer making movies. I will tip my hat to him for somewhat reprising his role as James Bond by lending his voice to the 2005 From Russia with Love video game. It seems these days the only work he will even consider taking is voice work for animated fare like Scotland's Sir Billi series. I cling desperately to the hope that we will get to see Connery on the big screen again, but for now it seems nothing can revoke his license to chill.