Danny Trejo Tries to Murder Space in the Sorta-Fake Trailer for 'Machete Kills Again…in Space'
Machete has killed by land, by air, and by sea… and then wept for he had no more things left to murder. So the natural progression for a man with killing on his mind and nothing left to kill on earth… is to go kill whatever the hell is in space — where no one will hear Machete's blade chunk into your gullet. If you were one of the few (emphasis on few) that went out to see Robert Rodriguez's second helping of Machete, Machete Kills, then you've already seen the fake trailer for Machete kills Again….in Space,  a possible sequel that Robert Rodriguez and Danny Trejo will try to will into existence through film marketing or black magic.
The speculative trailer features the now overly-familiar Grindhouse fuzz that blankets everything else Rodriguez has done for the past half decade, as we see Trejo traipse around a space ship getting with the babes and introducing everyone else to the business end of his Lightsaber-esque machete, which is just as good for space gardening as it is for dismemberment. We're also treated to appearances from Michelle Rodriguez, Lady Gaga, a man in a silver mask who may or may not be Leonardo DiCaprio, and the friendly pop star droid companion, The Justin Beibot 5000 (now with less singing).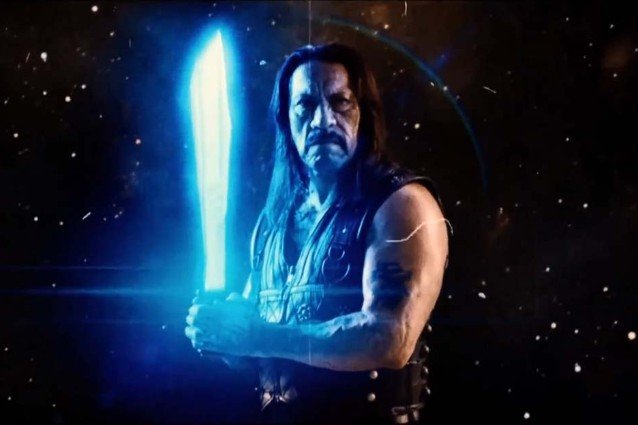 Machete Kills' low-box office gross has probably shot Rodriguez's dreams of a mexploitation space-opera in the kneecaps, but maybe that's a good thing. Before watching the trailer, we were initially excited at the prospect of a "Machete in Space" film, only to realize 30 seconds into it that we had already seen more than two lifetime's worth of a "Machete in Space" film — then we had to watch another whole minute and 15 seconds of it. It seems that Machete has indeed killed everything, even the guy who tapped Robert Rodriguez on the shoulder and told him that the joke is wearing thin.