'Machete' to slaughter Box Office!
The final weekend of the summer will give audiences a lot to chose from at the nation's theatres as Clooney, Barrymore and…Trejo give Labor Day audiences their last chance at summer movie-going fun.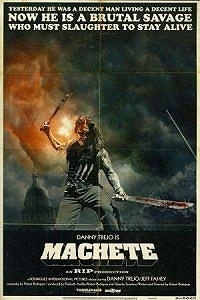 Twentieth Century Fox's "Machete" is set to slice up the competition as director Robert Rodriguez's star-studded extravaganza will likely dominate the weekend with a Friday through Monday total of over $16 million.  The incredible Danny Trejo stars as Machete and with co-star Lindsay Lohan all over the news lately and the themes of illegal immigration at the forefront of a national debate, this decidedly over-the-top and very non-politically correct action-comedy hybrid should give the summer a proper and bloody send off.
Second place should go to Focus Features' "The American" starring George Clooney.  The film opened on Wednesday with around $1.7 million and this portends a Friday through Monday total in the mid-$15 million range and a first six-day gross of around $18 million.  Clooney is one of the most popular actors working today and is a true movie star.  Director Anton Corbijn is a Dutch photographer and director well-known for shooting highly stylized music videos for U2, Depeche Mode, Coldplay and Nirvana.
Warner Bros. "Going the Distance" pairs the real life couple of Drew Barrymore and Justin Long in a romantic comedy that will be embraced by the date crowd while giving general audiences something light and fun to enjoy in marketplace loaded with intense fare.  In fourth place will likely be Sony's "Takers." The PG-13 action film won last weekend's box office derby by a nose, is doing well mid-week and has enjoyed solid word-of-mouth since its debut last Friday.  Paul Walker and Chris Brown lead a young ensemble cast through the machinations of a bank heist with Matt Dillon in hot pursuit.  A solid action movie with appeal to both male and female audiences, this one has successfully hit all the key demographics.
This sets the stage for the sophomore weekend of Lionsgate's "The Last Exorcism" to possess a typical-for-the-genre second weekend drop in the 60% plus range and a four-day gross of just under $10 million and thus round out the top five.
Labor Day weekend signals the traditional end to the summer movie season and heralds the arrival of the often eclectic, sometimes notable and almost always awards-worthy fall movie lineup.
For more data and information go to Hollywood.com Box Office