'Madagascar 3' Tops Box Office Again!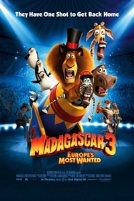 Paramount Pictures PG-rated Madagascar 3: Europe's Most Wanted (read the review) from Dreamworks Animation held onto first place for the second weekend in a row with a 41% drop and $35.5 million for the weekend. Having already crossed the $100 million mark internationally from 28 territories on Wednesday, the family favorite easily finished the weekend with over $120 million in North America. The film features the voices of Ben Stiller, Chris Rock and Jada Pinkett-Smith.
Fox's sci-fi horror film Prometheus from acclaimed director Ridley Scott entered its second weekend with close to $70 million in North America and a three-day gross of $20.2 million. With a terrific ensemble cast featuring Michael Fassbender, Noomi Rapace and Charlize Theron, this highly anticipated R-rated return to the sci-fi noir genre that Scott helped define, audiences gave the film a solid second weekend showing and close to $90 million in North America by Sunday night.
In third place earning $15.06 million in its debut, "Rock of Ages" is the big screen adaptation of the massively popular stage musical of the same name and features Tom Cruise as megalomaniac rock star Stacee Jaxx and an impressive ensemble cast including Julianne Hough, Alec Baldwin and Russell Brand. Helmer Adam Shankman, who directed 2007's musical hit "Hairspray" is thoroughly in his element here and Cruise, Baldwin and Brand give a memorable performances that will have audiences talking.
Universal's Snow White and the Huntsman (read the review) makes its mark in its third weekend of release with a gross of $13.8 million. Having already crossed the $100 million mark in North America this past Monday, the PG-13 rated fairy tale will pass the $120 million mark by the end of the weekend. Charlize Theron chews up the scenery as the Evil Queen while Kristen Stewart and Chris Hemsworth do their best to keep up in this stylish adaptation by first-time director Rupert Sanders.
Rounding out the top 5 with a less-than-expected $13 million in its opening weekend, Adam Sandler delves into R-rated territory with "That's My Boy" co-starring SNL's Adam Samberg as Sandler's estranged son who was the result of a inappropriate teenage fling with a teacher. Raunchy comedy ensues as Samberg deals with his man-child of a father who suddenly re-enters his life and wreaks havoc on his formerly calm existence. Vanilla Ice appears as himself in a cast rounded out by 70's pop star Tony Orlando and veteran actor James Caan.
Sony's Men in Black 3 (read the review) starring Will Smith, Tommy Lee Jones and Josh Brolin takes sixth place in its fourth weekend with $9.6 million and over $150 million to date in N. America and $544.3M worldwide. Disney's mega-blockbuster Marvel's "The Avengers" earns $8.9M in its seventh weekend with $586.7 million in domestic revenue and $1.419.8 million globally to date.
A "down" weekend vs. the comparable frame a year ago when Warner Bros.' "Green Lantern" led the weekend with $53.174 million. Summer-to-date revenues are running just over 1% ahead of last year.
Weekend Box Office (Estimates)
Top Movies for Weekend of June 15, 2012
Movie Weekend Gross Total to Date
1 Madagascar 3 (PG) $35.5M $120.45M
2 Prometheus (R) $20.2M $88.86M
3 Rock of Ages (PG13) $15.06M $15.06M
4 Snow White and the Huntsman (PG13) $13.8M $122.6M
5 That's My Boy (R) $13.0M $13.0M