'Madagascar 3' Trumps 'Prometheus' in This Week's Box Office Preview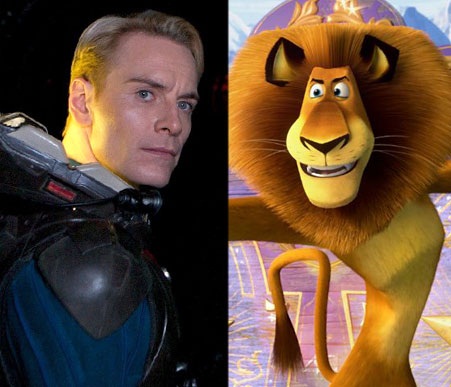 This weekend's Prometheus marks the return of renowned director Ridley Scott to the world of sci-fi, a genre he changed forever with his seminal 1979 film Alien. But even the momentous occasion of a semi-prequel with a thirty year gap doesn't arrive with enough fanfare to blow away a cinematic staple like the Madagascar franchise. According to Hollywood.com Box Office Analyst Paul Dergarabedian, this weekend should see the ragtag team of animals winning one for Earth over Scott's intergalactic blockbuster.
Madagascar 3: Europe's Most Wanted (read the review) lands in over 4,000 theaters and should prove a breath of fresh air for parents anxious to head to theaters with the young ones. The Dreamworks animation threequel is the first family friendly film of the summer season and, with the help of 3D screens, should rake in around $55 – $60 million. Helping the movie's climb to success is the return of all the marquee names, including Ben Stiller, Chris Rock, Jada Pinkett Smith and Sacha Baron Cohen, who helped the previous Madagascar films to gross over $1.1 billion worldwide.
Thankfully for sci-fi buffs, Madagascar's success shouldn't damper Prometheus' (read the review) maiden voyage. Descending into second place, the film, starring Michael Fassbender, Charlize Theron and Noomi Rapace, should do solid business with around $35 million — making it one of Scott's personal bests and proving that the hard R rating isn't a deterrent for adults.
Last week's winner, Snow White and the Huntsman (read the review), rose above predictions for its initial three-day gross, taking in a whopping $56.2 million. The Kristen Stewart fantasy grossed another $20 million during the week, putting it at a formidable $75 million domestic total going into this weekend. The film should take third place and sail by the $100 million mark by Sunday.
Men in Black 3 (read the review) enters its third week of release with a solid $120 million domestic and $441 million worldwide, surpassing the worldwide gross of 2002's Men in Black 2. Will Smith's return to summer blockbusters is expected to add a number in the low teens this weekend, placing it at $130 million.
Rounding out the top five is the biggest hit of the year, Marvel's The Avengers (read the review). The superhero epic hits its 6th week with an American total of $560 million. An expected gross around the $10 million range will see Avengers hit a staggering $1.4 billion worldwide total. If every other blockbuster looks puny in comparison, remember: they had a Hulk.
What are you going to see this weekend?
Follow Matt Patches on Twitter @misterpatches
More:
'Prometheus' and Defying the R-Rated Blockbuster Odds
'Moonrise Kingdom' Breaks Indie Box Office Record
'Avengers' Passes 'Dark Knight' Box Office!
[Photo Credit: Dreamworks/20th Century Fox ]