'Madagascar' Likely To Top Box Office Again!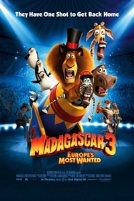 Paramount Pictures' PG-rated Madagascar 3: Europe's Most Wanted (read the review) from Dreamworks Animation should hold onto first place for the second weekend in a row with a drop in the low 40% range and $35 million plus for the weekend. Having already crossed the $100 million mark internationally from 28 territories on Wednesday, the family favorite will easily finish the weekend with over $110 million in North America. The film features the voices of Ben Stiller, Chris Rock and Jada Pinkett-Smith.
Fox's sci-fi horror film Prometheus from acclaimed director Ridley Scott will enter its second weekend with close to $70 million in North America and an expected gross in the $25 to $30 million range. With a terrific cast featuring Michael Fassbender, Noomi Rapace and Charlize Theron, this highly anticipated R-rated return to the sci-fi noir genre that Scott helped define, this visual tour-de-force should have a solid second weekend showing and close to $100 million in North America by Sunday night.
This leaves two newcomers to duke it out for third and fourth place with both Warner Bros. PG-13 musical Rock of Ages (debuting in 3470 theaters) and Sony's R-rated That's My Boy (debuting in 3030 theaters) expected to each earn in the high teen to low $20 million range. Rock of Ages is the big screen adaptation of the massively popular stage musical of the same name and features Tom Cruise as megalomaniac rock star Stacee Jaxx and an impressive ensemble cast including Julianne Hough, Alec Baldwin and Russell Brand. Helmer Adam Shankman, who directed 2007's musical hit "Hairspray" is thoroughly in his element here and Cruise, Baldwin and Brand give a memorable performances that will have audiences talking. Adam Sandler always seems to find an audience in the summer, though this time he delves into R-rated territory with That's My Boy co-starring SNL's Andy Samberg as Sandler's estranged son who was the result of a inappropriate teenage fling with a teacher. Raunchy comedy ensues as Samberg deals with his man-child of a father who suddenly re-enters his life and wreaks havoc on his formerly calm existence. Vanilla Ice appears as himself in a cast rounded out by 70's pop star Tony Orlando and veteran actor James Caan.
Rounding out the top five, Universal's Snow White and the Huntsman (read the review) will make its mark in its third weekend of release with a gross of around $10 million. Having already crossed the $100 million mark in North America on Monday, the PG-13 rated fairy tale should be closing in on $120 million by the end of the weekend. Charlize Theron chews up the scenery as the Evil Queen while Kristen Stewart and Chris Hemsworth do their best to keep up in this stylish adaptation by first-time director Rupert Sanders.
Sony's Men in Black 3 (read the review) starring Will Smith, Tommy Lee Jones and Josh Brolin will enter its fourth weekend with over $140 million in North America and Disney's release of Marvel's The Avengers enters its seventh weekend with around $578 million in domestic revenue.
More:
Adam Sandler Movies: Proof Celebrity Cameos Gauge the Quality
'Prometheus' and Defying the R-Rated Blockbuster Odds
'Moonrise Kingdom' Breaks Indie Box Office Record