'Madagascar' & 'Prometheus' Rock Box Office!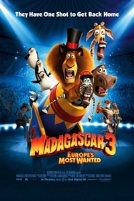 Dreamworks Animation and Paramount Pictures brought the PG-rated "Madagascar 3: Europe's Most Wanted" to over 4,000 theaters this weekend and in the process drew a huge family audience. This is the latest installment of the massively successful animated franchise that has generated over $1.1 billion in worldwide revenues. The film took the weekend with a 3-D enhanced $60.35 million and in the process fulfilled the pent up demand by movie hungry kids and their parents for this, the first animated family film of the summer.
Having a spectacular second-place debut is Fox's R-rated sci-fi horror entry "Prometheus" from acclaimed director Ridley Scott. Starring Michael Fassbender, Noomi Rapace and Charlize Theron, this is the highly anticipated return to the world of Scott's 1979 sci-fi classic "Alien." Strong interest by sci-fi fans and a terrific and innovative marketing campaign gave the film a much better-than-expected $50 million fueled by an additional $9.1 million for an IMAX June record. International receipts on the film total $91.5 million after 10-12 days of release.
Universal's "Snow White and the Huntsman" had a better-than-expected first place debut of $56.2 million and followed up with a second weekend of tally $23 million. Holding the number one spot in the mid-week derby, solid word-of-mouth has made this an unqualified summer hit with $75 million in North America heading into the weekend. This dark re-telling of the classic fairy tale stars Charlize Theron as the Evil Queen and Kristen Stewart as Snow White and nearly crosses the $100 million mark by Sunday night.
Sony's "Men in Black 3" starring Will Smith, Tommy Lee Jones and Josh Brolin will enter its third weekend having already earned $120 million in North America and over $441 million worldwide (surpassing the total worldwide gross of "Men in Black 2"). The alien-busters drew $13.5 million this weekend and pushed the time-twisting PG-13 rated sci-fi/comedy hybrid over the $135 million mark by the end of the weekend after just 17 days in release. The film grossed an estimated $38.3 million in 79 markets this weekend, bringing the overseas cumulative to $352.1 and the worldwide total to $487.6 million and climbing.
Disney release of Marvel's "The Avengers" continues its superhero style run in theaters and will enter its sixth weekend with over $560 million in domestic revenue. A $10.8 million gross pushed its domestic total to just over $570 million and its worldwide total close to a staggering $1.4 billion plus by the end of the weekend.
The Avengers stands as the #3 film of all-time globally, behind only Avatar ($2,782M) and Titanic ($2,185M)
The Avengers stands as the #3 film of all-time domestically, behind only Avatar ($761M) and Titanic ($659M)
This was a terrific summer weekend with a diversity of product that had appeal to virtually all audiences. A nearly 30% advantage over the same weekend last year when "Super 8" had its debut gets us back on track after three "down" weekends in a row. YTD now nearly 10% ahead of last year at this point and summer revenues are currently ahead by almost 2%. Next week Tom Cruise in Warner Bros.' "Rock of Ages" and Sony's Adam Sandler comedy "That's My Boy."
Weekend Box Office (Estimates)
Top Movies for Weekend of June 8, 2012
Movie Weekend Gross Total to Date
1 Madagascar 3 (PG) $60.35M $60.35M
2 Prometheus (R) $50.0M $50.0M
3 Snow White and the Huntsman (PG13) $23.0M $98.5M
4 Men in Black 3 (PG13) $13.5M $135.5M
5 The Avengers (PG13) $10.8M $571.86M
More:
'Prometheus' and Defying the R-Rated Blockbuster Odds
'Moonrise Kingdom' Breaks Indie Box Office Record
'Avengers' Passes 'Dark Knight' Box Office!
[Photo Credit: Dreamworks/20th Century Fox ]